Kızıltepe welcome the HDP candidates with slogans and chants
The city of young AKP victim Uğur Kaymaz was the chosen by the HDP for the first rally in Mardin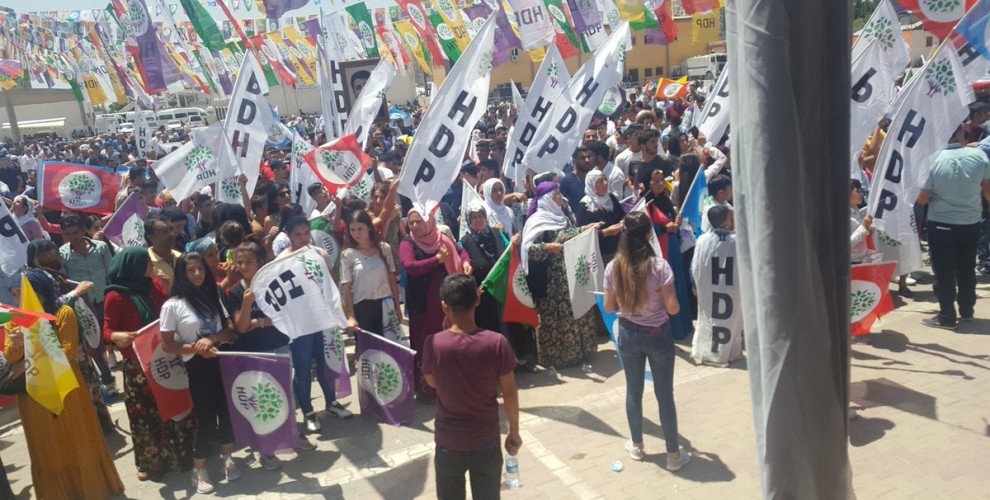 The first of the rallies of the HDP in the region of Mardin was in Kızıltepe and was attended by thousands of people. 
The rally's main message was one of hope and certainty that 24 June will mark a new beginning for the country.
The HDP candidates addressed thousands of people gathered in Newroz Field. HDP co-presidents and Presidential candidate Selahattin Demirtaş posters were all over the rally area which was decorated with banners saying "Em Dikarin", "Change with you", "Change with women". 
Koma Dengê Jinên Azad took the stage while people was chanting slogans.
The HDP will stop blood running
Şemsa Yurtgul, the mother of Murat Yurtgul, who lost his life in the Suruç Massacre on 20 July 2015 was one of the speakers at the rally. 
Yurtgul reminding of the second massacre in Suruç saidç "Give your vote to the HDP and Demirtaş if you want to stop blood running, you want stop mothers' tears".
HDP candidate, Ebru Günay remembering those who lost their lives in Suruç attack, said: "We know their killers. We know them from Cizre, Sur, Nisebina Rengin". 
Underlining that with people's resistance the isolation regime in Imrali [where Kurdish Leader Abdullah Ocalan is detained since 1999] will be smashed, Günay said: "On 24 June we will say 'Tamam' [enough] to the AKP".
Lies, plunder and blood: this is the AKP
HDP MP and candidate, Mithat Sancar, said the AKP is in fact "lies, plunder and blood" and pointed out to the dirty alliances going on within the AKP, when he mentioned that former President Tansu Çiller and her son were seen taking part in the AKP rallies and that one of the candidate for the AKP is Mehmet Ağar, ex police chief and Interior Minister. 
Sancar asked the commissioner appointed to Kızıltepe Municipality "What did you want from Uğur Kaymaz's statue?", referring to the tribute made to the little child, from Kızıltepe, killed by the AKP state security forces with his father. 
HDP candidate Gülbin Şahin Dağhan stated that 24 June will be the day to stand up against repression and murders.
During the speech by Dağhan people reacted shouting slogans to the police who was recording the crowd.
The meeting ended with Koma Hivron who performed some songs.