Kılıçdaroğlu meets HDP co-chairs in Ankara
After meeting with HDP Co-chairs Pervin Buldan and Mithat Sancar in Ankara, presidential candidate Kemal Kılıçdaroğlu called for a solution to the Kurdish question in Turkey's parliament.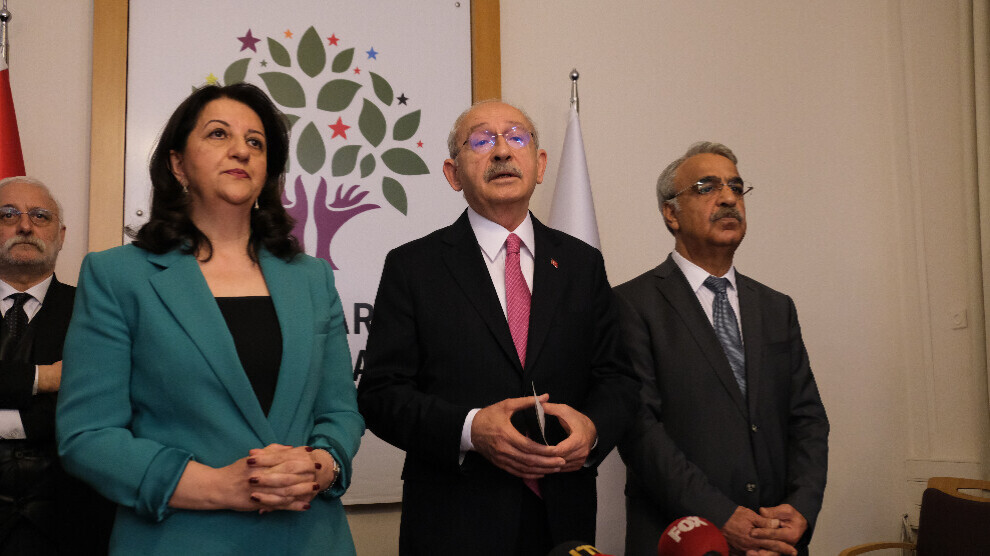 CHP (Republican People's Party) leader Kemal Kılıçdaroğlu met with HDP co-chairs Pervin Buldan and Mithat Sancar as the presidential candidate of the Nation Alliance. Kılıçdaroğlu was accompanied by CHP parliamentary group vice-chair Özgür Özel, CHP General Secretary Selin Sayek Böke and CHP vice-chair Oğuz Kaan Salıcı during the visit to the HDP parliamentary group in Ankara on Monday. The CHP delegation was received by HDP co-chairs Pervin Buldan and Mithat Sancar, Party Spokeswoman Ebru Günay and HDP Group Deputy Chair Saruhan Oluç.
"ALL PROBLEMS INCLUDING THE KURDISH QUESTION MUST BE SOLVED IN PARLIAMENT"
Following the meeting, Kılıçdaroğlu, Buldan and Sancar held a press conference in the HDP's parliamentary party hall. Kılıçdaroğlu, who was chosen as the joint presidential candidate of the CHP, IYI party and four other parties on 6 March after previous differences within the Nation Alliance known as the "Table of Six", stated the following at the press conference:
"We conveyed our document on constitutional amendments, the strengthened parliamentary system and our common consensus text. We also discussed and brought up many of Turkey's problems. There must be an independent and impartial judiciary. There must be the rule of law. The imbalance in income distribution must be eliminated and the social state must be implemented with vigour. The protection of fundamental rights and freedoms was also expressed as a common demand. Fundamental rights and freedoms must be protected and sensitivity to the environment and climate change was on our agenda. There is environmental and climate change and serious preparations are needed. The fact that Turkey does not put this issue on the agenda while the world is making preparations means that the state is unprepared, especially in case of natural disasters.
Local administrations were highlighted, and we expressed to the honourable leaders [of the HDP] that we never thought it was right to continue the practice of trusteeship [state-forced administration of municipalities and other institutions]. In our joint consensus text, we stated that there should be no trusteeship and that those who come through elections go through elections. That is the basic rule of democracy. If you mortgage democracy, if you say, 'I will not accept your votes, I will bring someone I want here, someone who will be appointed', that is not correct practice. If we defend democracy, we must defend it at all costs. Defending democracy means defending human rights, equal rights for women and men, the environment and the climate, and expressing the will to take all possible measures to repair the damage that will be done. It was also stated that democracy is one of our indispensable conditions.
"POLITICS MUST NO LONGER BE A THEATRE OF STRUGGLES"
The way for free politics must be paved and politics must no longer be a theatre of struggles. Is this country not tired of fighting? Tonight, on certain TV channels, there will again be a lot of writing and designating. Are you not tired of fighting? Why do we fight while we can embrace each other, while we can come together and discuss like civilised people? For what reasons do we fight? Why do we polarise society. Why do we divide it? We stand for unity and solidarity, we are ready to act together for the development and growth of this country and to solve all existing problems. Politics should not create problems, it should solve existing problems. When politics creates problems, it has a negative impact on development, growth, human rights and gender equality. We are in the 21st century and we are still looking for ways to close down a party. This is not right. It is not right to close down a party so that its votes come to me. We all know and see that dissolved parties are back on the political scene under different names and people support them. There are provisions in the common consensus text on the closure of parties and this must be made more difficult. The parliament must take a decision first. There are regulations on this issue. I have spoken to the chairpersons on this issue. Violence against women must end. Society has a sensitivity to this issue and this sensitivity must be felt in the spirit of the political institution. If you promote violence against women at one level or another, it is not right. Violence against women must end and the political institution must take a clear and open stance on this issue.
All disadvantaged groups must do their part and the political institution must do its part. Ignoring disadvantaged groups and depriving them of their rights does not fit Turkey in the 21st century. The rights of all disadvantaged groups must be recognised and the way must be opened for them to live in all spheres of life in cities and villages. The judiciary must not be used as a cudgel. We never accept the politicisation of the judiciary by political power and the use of the judiciary as a cudgel for politics. According to Article 138 of the Constitution, judges decide according to the rule of law and their convictions of conscience. This is what we expect from judges. We expect them to resist the pressure of political power. Once this happens, we can build a true democracy.
We also discussed the earthquake. It was stated by the chairpersons that an urgent programme is needed to repair the aftermath of the earthquake. We also share this opinion. It is absolutely necessary to make a special planning for this region. During my visit to the earthquake area, I made an appeal to the government, and I would like to make the same appeal here. There is an urgent need to start a rehabilitation programme.
"NO PROBLEM IS UNSOLVABLE"
The address for the solution to all problems, including the Kurdish question, is the Grand National Assembly of Turkey. I repeat once again that the address for the solution to all problems, including the Kurdish question, is the Grand National Assembly of Turkey. The existence of the Grand National Assembly of Turkey stems from the fact that it is a parliament that solves problems. Since its foundation, the most fundamental problems of Turkey have been solved in the Grand National Assembly. We are ready to solve all existing problems together with the parliamentarians who were elected by the people who trusted in their common sense and brought them here, and we will solve them. You will see that no problem is unsolvable. The address for solving any problem is the Grand National Assembly of Turkey. All problems can be solved with the will of the people.
In our declaration addressing the second century, we clearly emphasised that the address for the solution to the Kurdish question is the Grand National Assembly of Turkey, and all these resolutions were unanimously adopted at our general assembly. We defend democracy, we defend human rights, we believe that no one should be excluded. We defend equality between women and men. From the environment to the climate, from human rights to democracy, from the independence of the judiciary to the enforcement of the rights of disadvantaged groups to equality between women and men: we must bring democracy to this country. There is no middle ground, no struggle. We will discuss freely; we will discuss together. If we cannot agree on everything, we will talk again and again. There are respected people in this country from academia, civil society and opinion leaders in every city. Politics is not an institution on its own, it draws its strength from society, opinion leaders and academics. With this support, we can solve all existing problems. There is no problem without a solution.
"WE WILL STOP THE FIGHT"
This visit is obviously of great importance to you. All the cameras are here, with their advantages and disadvantages. I ask especially the representatives of the press to refrain from language that divides society. Avoid a language that polarises society. The media also have a responsibility. The media should know and take this responsibility. Why this fight while we can join hands and embrace, while we can share our painful days, while we can rejoice in our joyful days. We will stop the fight. As a candidate for the 13th President, I will end the fight in this country. I promise. I promise my nation that a human being, regardless of identity, faith or lifestyle, is a human being and has a superior place for me.
"WE WILL RESPECT ALL LANGUAGES"
What I see is bitter. You see, another painful incident: It is discussed at the lectern in the Turkish Grand National Assembly. In English, it is written in brackets: This word is in English. The same goes for French, etc. Everything is written. If a sentence in the text of the speech is in Kurdish, it is written as an unknown language. For God's sake, I appeal to the conscience of the people in this country. TRT has a channel called TRT Kurdî. How can you write here that it is an unknown language? An unknown language. How can you call a language that has been spoken for thousands of years an unknown language? Now I ask all those who have a conscience and morals: A double standard does not suit the state, it is not right. You will respect everyone's language. Yes, our official language is Turkish, nobody says anything anyway. But as a state, you can't have double standards. If you apply double standards, you discriminate against our citizens.
"WE WILL MAKE AN ETHICAL AND DEMOCRATIC START"
This means that you are playing one group of people against another group of people. This is a game that the imperial powers are playing against Turkey, and we will save Turkey from this game. Everyone will feel comfortable in this country, you will not see anyone as an enemy, you will not exclude anyone. You will respect everyone's faith, identity and lifestyle. We will make a new beginning. An ethical, democratic beginning. We will make a beginning that is inclusive of all. A society that is free of fighting. The society will focus on how to grow, how to develop, how to solve unemployment, how to remove the imbalance between regions. There are problems in the earthquake area. Thousands, millions of people living in the earthquake area have problems. How will we solve these problems? That is what society should focus on. It should not focus on vicious debates. The members of the press have a big task here. Have I spoken a little too long, dear Chairpersons? Thank you all from the bottom of my heart. In the presence of all of you, I would like to thank the esteemed Chairpersons for receiving us so kindly."
BULDAN: SOCIETY EXPECTS THE SOLUTION OF PROBLEMS
HDP Chairperson Pervin Buldan thanked those present for their interest and said that about an hour was spent discussing with the CHP delegation the issues raised by Kılıçdaroğlu and the fundamental problems of Turkey: "Starting from these fundamental problems, we talked about the expectations of society and people in Turkey towards us. In the spirit of these expectations, I would like to thank the Chairman once again for the information he has given us. The reason why we received him here today was to show that we are in favour of a democratic solution to the Kurdish question under the parliamentary umbrella of the Grand National Assembly of Turkey. That is why we wanted to receive him and his delegation in the Parliament. But we also talked about the society's expectations of us regarding the solution to all the problems of Turkey, especially the Kurdish question, and what will happen after the elections. We thank the Chairman and his delegation once again for coming."
SANCAR: WE WILL EVALUATE THE CONTENT OF THE MEETING
HDP Co-chair Mithat Sancar stated: "Many issues were discussed during our meeting and Mr Kılıçdaroğlu has just presented them to you in a summary. Turkey is in a deep crisis. The earthquake has once again revealed with great pain the picture of destruction in which we find ourselves. It was the earthquake that brought us to a new stage, if only because it came with so much pain on the agenda. But it is not possible to do politics and work if you ignore this pain. We had a constructive meeting, and my party believes that Turkey needs an urgent programme to rebuild the social sectors and structures that were severely damaged by the earthquake. There is an urgent need for a reconstruction programme and a new beginning. A new beginning will only be possible if a life and a system based on democracy, human rights, justice and freedom are created. We exchanged our views on these issues. The reason why we held this meeting in Parliament is to emphasise that we see the Grand National Assembly as the address of the solution. As Mr. Chairman pointed out, all of Turkey's problems can be solved here with a broad social consensus. Moreover, we will evaluate the content of this meeting with our allies, who will take the issues discussed to our bodies, and we will make a more detailed statement to the press and the public in the near future. We thank you all."