KCDK-E: Shengal's autonomous status must be recognized
KCDK-E called the ISIS attacks against Yazidis on August 3, 2014 in Shengal a "genocide of humanity" and demanded status for Yazidis.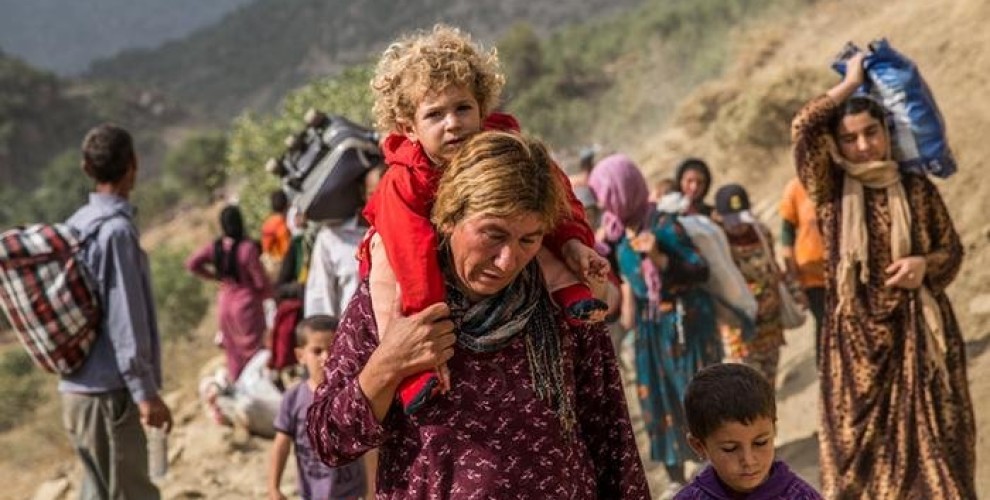 The European Kurdish Democratic Society Congress (KCDK-E) Co-Presidential Council issued a written statement for the 4th anniversary of the genocidal attacks against Shengal and said, "The barbaric ISIS gangs led by the Turkish state headed by Dictator Erdoğan and nurtured by regressive forces in the region attacked Shengal on August 3, 2014 and enacted a genocide."
The statement said, "This genocide against Yazidi (Êzidî) Kurds has gone down in history as the greatest shame of early 21st century. The KDP administration turning a blind eye and the world watching in silence has created the foundation for this tragedy enacted in front of the whole world to see."
KCDK-E mentioned the Yazidis abducted, killed and sold in slave markets during the genocidal attacks and said, "This tragedy imposed upon our people happened in front of the eyes of humanity as a whole, but the world still stays silent."
KCDK-E stated that the HPG, YJA-Star, YPG and YPJ forces defended the Yazidi people against the massacre with great sacrifice and added: "This great heroism has saved the lives of thousands of Yazidi Kurds."
KCDK-E also stated that YPŞ and YJŞ have been formed as self-defense forces so there is never another massacre, and stressed that the Yazidis have built their own system of self-governance against new attacks and massacres.
"The danger isn't over in Shengal," said KCDK-E and added: "Turkish colonialism continues its attacks at a similar level to ISIS. Dictator Erdoğan wants to achieve what ISIS failed to do over the invasion of Southern Kurdistan."
The statement continued with: "We condemn this shame of the century that happened in front of the whole global public. The UN and the rest of humanity should recognize this genocide and take appropriate action. The status of Shengal, a sacred settlement for Yazidis, must be recognized. The will for self-defense and self-government built by the people of Shengal to protect themselves must be accepted.
As the KCDK-E, we call on our people to stand against this genocide of August 3, 2014 with resolve. We condemn this barbaric massacre and genocide imposed upon our people in Shengal. We call on all to increase the demonstrations and events to embrace Shengal further. Supporting and furthering the Shengal's self-governance is a duty of dignity for all Kurds.
As the KCDK-E , TJK-E and Yazidi institutions, we are calling on all our institutions and people in Europe, Japan, Canada and Australia and all who call themselves human to participate in the activities to condemn the Shengal massacre and remember the martyrs to be held in city centers on August 3 at 18:00."