Jena: Freedom for Abdullah Öcalan - For life instead of G7!
In Jena today, the Kurdistan Solidarity Group and Ya Basta made a joint statement of solidarity with Abdullah Öcalan. "The repression against him takes place in a global political context and cannot be seen in isolation from it," said the activists involv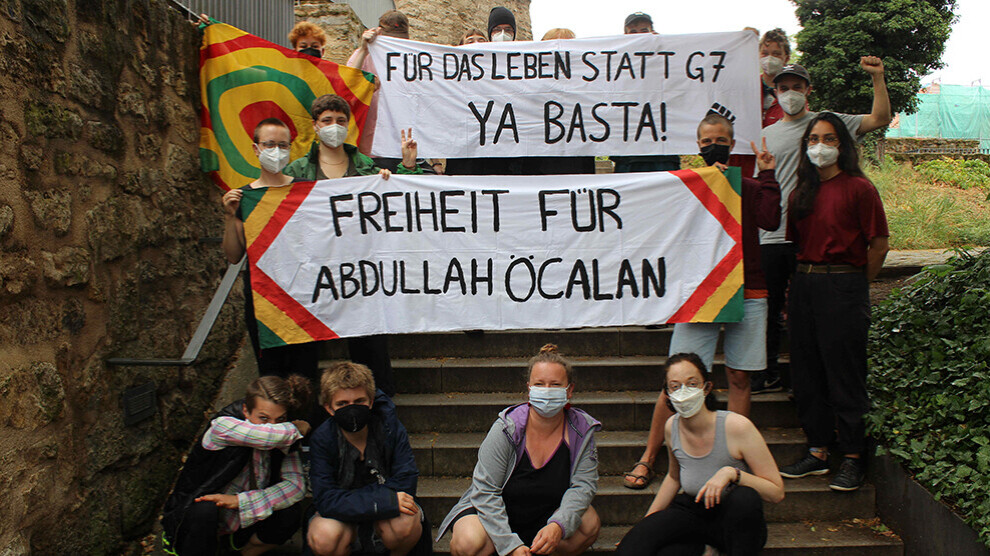 The Kurdistan solidarity group Jena, together with the network "Ya Basta", called for a solidarity action in the Thuringian university town on Friday. The occasion was the internationalist week of action as part of the permanent vigil in front of the Council of Europe in Strasbourg, which continues until Sunday. The call was for the "immediate liberation" of Abdullah Öcalan and all other political prisoners.
"The criminalisation and the accompanying repression against the Kurdish freedom movement and especially against Abdullah Öcalan is embedded in global politics and cannot be seen separately from it," said an activist on behalf of both groups. Therefore, there was a call to stand in solidarity with the activists against this year's G7 summit, which will take place from 26 to 28 June in Schloss Elmau in the Bavarian Alps. "The summit can be understood as a reflection of global injustice and the continuation of oppressive colonial structures that are directed against all emancipatory, social-ecological and freedom movements."
Caravan of activists from the global south
This was also linked to an event of a G7 protest caravan that recently took place in Jena. In protest against the summit meeting of capitalist countries, activists from Afghanistan, Palestine, Western Sahara, Namibia, Honduras, Guatemala, Mexico and Kurdistan came together in a caravan called "For Life: Internationalism and Global Justice instead of G7". They are travelling through Germany and report on their resistant struggles for life, the exploitation of the "global South" in the context of the colonial and racist continuity of the "West" and the neoliberal agenda of the G7 countries, as well as the resulting consequences such as land grabbing, ecocide, sexual violence, displacement and flight. They also shared their experiences and perspectives at an event in Jena. "It is therefore our responsibility to protest against the repressive, destructive and exploitative policies of these states and to stand together in international solidarity!" said one activist.