International delegation denied attendance in Yüksekdağ's hearing
The first hearing of the main case of Figen Yüksekdağ has begun at Ankara 16th Heavy Penal Court. Yüksekdağ was met with slogans in the hearing room.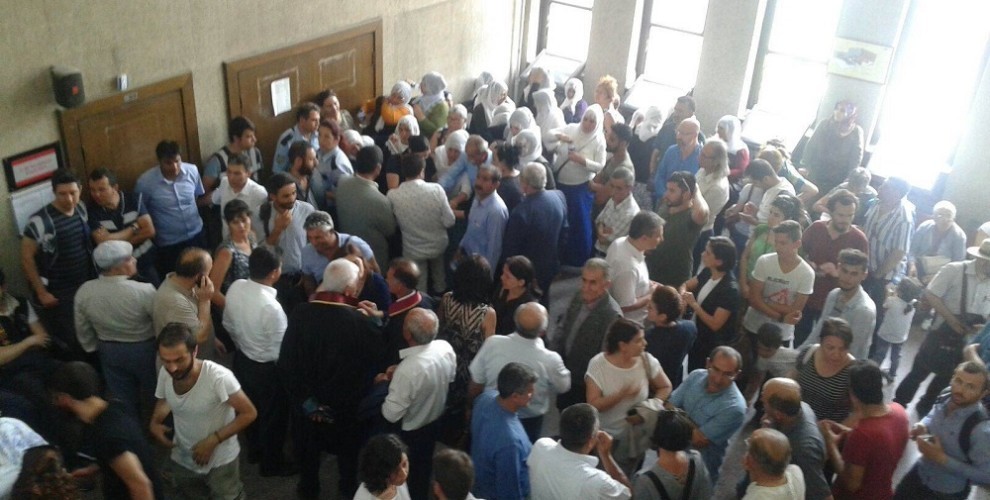 Yüksekdağ, former Co-chair of the Peoples' Democratic Party (HDP) is appearing at court for the first time since her arrest in Ankara on 4 November, 2016. 30 to 83 year prison sentence is sought for Yüksekdağ whose membership in the party and parliament was revoked after her imprisonment.
The former HDP co-chair, who is taken to court 242 days after her arrest, is attending the hearing in person after she refused attendance over video conference system SEGBİS.
Yüksekdağ was met with "Jin jiyan azadi" [Women, Life, Freedom] and "Figen Yüksekdağ is our honour" slogans as she entered the hearing room.
Dozens of lawyers are attending the hearing, in addition to HDP Co-chair Serpil Kemalbay who was recently elected in her place and deputies from the HDP.
A number of policemen are deployed in the hearing room and the court hallways.
The international delegation that came to Ankara to observe the hearing were not allowed into the hearing room "because they did not receive permission from Interior Ministry".
Yüksekdağ is facing the accusations of establishing or directing armed terrorist organization, making propaganda of a terrorist organization, inciting people to hatred and enmity, inciting people to commit a crime, inciting people to break the law, participation in unlawful meetings and demonstrations. Her indictment consists of 8 separate files compiled together. Almost all of the files are about speeches she made as the leader of a political party.
Evidence cited from her speeches includes:
• Describing the demonstrations during curfews in Kurdish cities as "resistance";
• Supporting "democratic self-administration", a fact which is openly written in HDP's party program;
• Describing the killings of hundreds of civilians in the operations carried out by state security forces as "massacre".
Beside this, one of the files is related to the call to protest the siege of Kobanê issued by HDP Central Executive Committee on 6 October 2014. During the countrywide protests, the police used extreme violence, and over 50 people were killed between 6th and 8th of October 2014, the overwhelming majority being HDP members or sympathizers.