International Delegation Against Isolation visits DBP and TÖP
Members of the International Delegation Against Isolation visited the Democratic Regions Party (DBP) and the Social Freedom Party (TÖP) in Istanbul on Friday.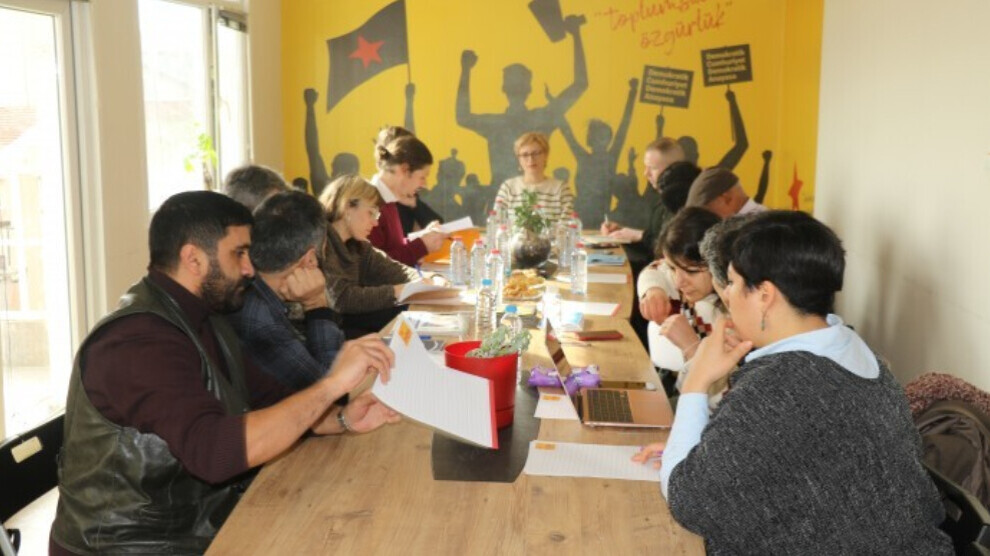 A delegation of the 'International Delegation Against Isolation', which consists of 36 lawyers, journalists and academics from 7 different countries to protest the aggravated isolation of Kurdish leader Abdullah Öcalan, is continuing to hold meetings in Turkey on the third day of an official visit. In Istanbul, members of the delegation divided into two groups and made separate visits. They made their first visit to the TÖP and the DBP today (Jan. 27).
The delegation members were welcomed by DBP Marmara co-spokespersons Dilber Demir and Atilla Özdoğan. In a closed-door meeting, the isolation of Kurdish leader Abdullah Öcalan in the İmralı Prison, the detention process of Öcalan and the political developments in Turkey were addressed.
During the visit to the TÖP Istanbul Headquarters, members of the delegation were accompanied by Secretary General of the Association of Lawyers for Freedom (ÖHD) Rengin Ergül and ÖHD member Bülent Aşa. They were welcomed by TÖB spokesperson Perihan Koca, Central Committee member Tamer Doğan, Party Assembly member Kubilay Çelik and Law Commission members Ezgi Kaya and Sezen Ezer. Perihan Koca gave information about the activities of her party. She addressed the government's attacks on Kurds, Alevis, women, workers and many other groups, and the severe isolation conditions in Turkey's prisons, citing Öcalan's case. Koca pointed out that Öcalan could not even enjoy his basic rights in the İmralı Prison and was not allowed to meet with his family members and lawyers.
Today, the delegation will visit the Socialist Assemblies Federation (SMF), the Peoples' Democratic Congress (HDK), the Laborers' Movement Party (EHP) and the Socialist Refoundation Party (SYKP).