Indefinite sit-in by the CPT continues with resolve
The 24th day in the sit-in held in front of the CPT and the Council of Europe with the demand that Kurdish People's Leader Abdullah Öcalan be visited at once has concluded. Support from CoE members continues.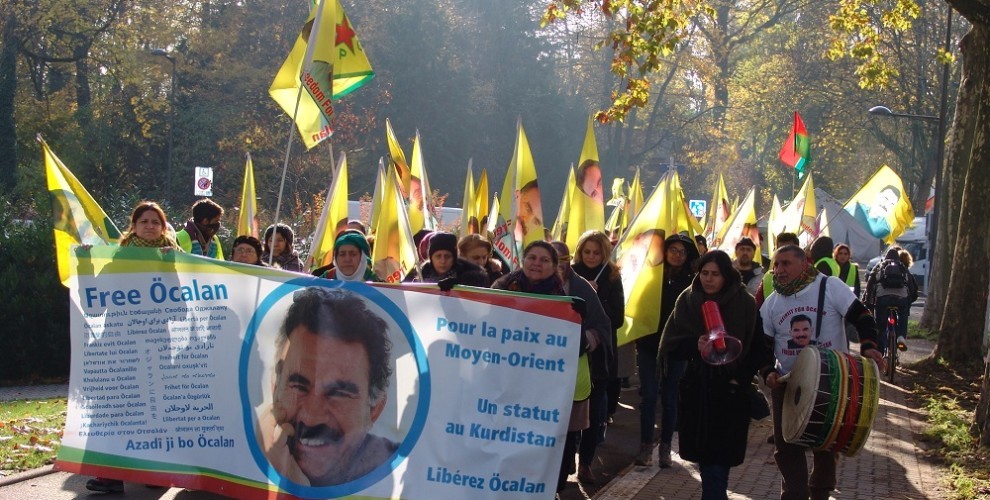 With the sit-in launched on October 23, activists demand that the Committee for the Prevention of Torture (CPT) visit the Imrali island at once and launch a detailed inquiry on Öcalan's health and safety.
Dozens of institutions in Europe support the sit-in and new groups join the demonstration every day in turns, mostly representatives from institutions in various cities of Germany, Switzerland, Belgium and France and Kurdish patriots. Women and young people make up most of the sit-in activists.
On the 24th day of the sit-in, the crowd gathered across from the Council of Europe (CoE) which houses the CPT and chanted slogans of "CPT to Imrali" and "Freedom for Öcalan", calling the CPT to urgent action.
Activists marched from the sit-in tent to the CPT with slogans. They continued chanting in front of the CPT and condemned the institution. Activists held a silent sit-in for several minutes to protest the CPT's silence.
EP MEMBERS: "WE HEAR THE VOICE OF THE KURDISH PEOPLE"
Meanwhile, European parliamentarians who support the sit-in continue to visit the demonstration. Julie Ward from the UK's Labour Party visited the sit-in Wednesday afternoon and met with the activists.
Ward listened to the activists' demands and stressed that they understand the concerns regarding the Kurdish People's Leader and support the demonstration. Ward said the Kurdish people shouldn't worry that their voice isn't being heard, and pointed out that many parliamentarians were interested in the issue. Ward also said they will be launching more extensive efforts in the British parliament about Öcalan.
Ward said the European states might be shying away from Öcalan's alternative ideas and stressed that despite that, the Kurdish people's demand should be met.
The sit-in will continue tomorrow with new participations. The demonstration has been visited by representatives and members from Kurdish institutions and institutions and individuals from various peoples of Turkey, Europe and the Middle East.