Hunger strike in Berlin on day 5
Hunger strike are taking place all around the world in protest at the isolation regime on Abdullah Öcalan.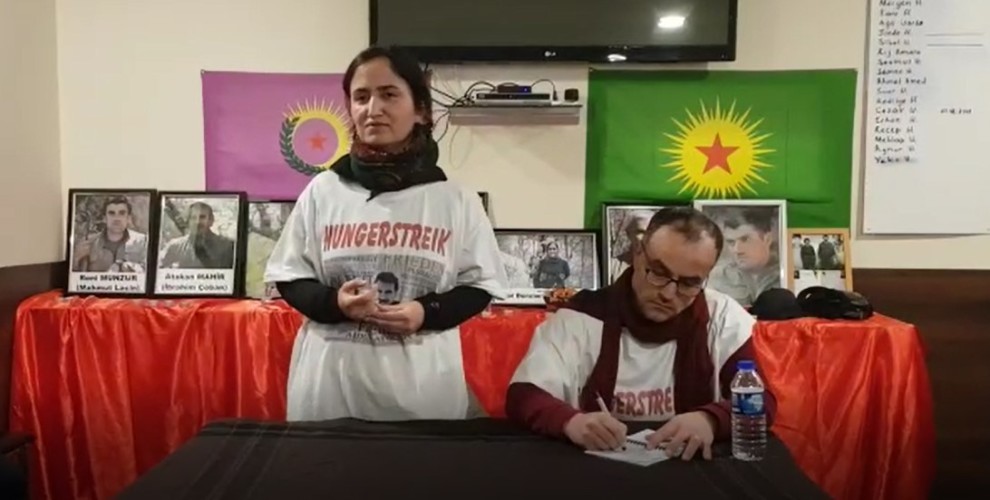 19 people are joining the hunger strike launched in German capital city Berlin 4 days ago in solidarity with DTK Co-chair and HDP MP Leyla Güven whose hunger strike demanding an end to the aggravated isolation imposed on Kurdish People's Leader Abdullah Öcalan is on its 33rd day.
As part of a campaign launched by the Kurdish Women's Movement in Europe (TJK-E) on November 25, International Day for the Elimination of Violence against Women, with the motto "violence against women is political", a seminar was organised in Berlin Sunday evening and saw the participation of many people, including participants of the hunger strike against isolation.
Speaking at the seminar, Berlin Popular Assembly Co-president Yeko Ardil made a speech while Kurdish female politician Jinda Nurhak made a presentation on violence against women and the works carried out by the Kurdish freedom movement in this regard.
Berlin State MP Hakan Tas has visited the hunger strikers on the 5th day of their action in solidarity with their demand for an end to the isolation of the Kurdish leader.
The hunger strikers will be visited by groups from Berlin State Parliament at 13:00 today. Following a meeting with party representatives, a demonstration led by hunger strikers will be held in front of the Federal Parliament at 15:00 in the afternoon.