HDP's Buldan: We promise Leyla, we will break the isolation
The HDP Group in Parliament has dedicated its weekly meeting to a single issue: the hunger strikes demanding the end of isolation in Imrali.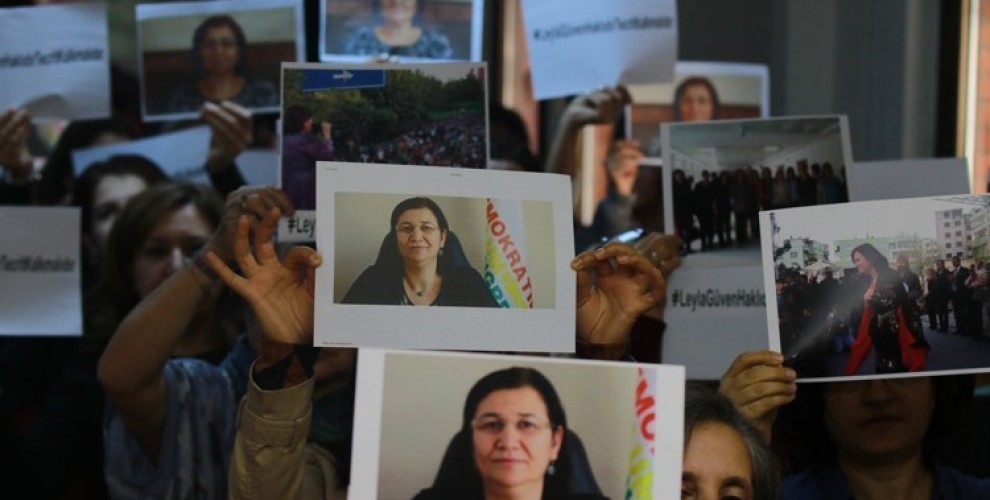 Speaking at the group meeting in the Parliament, HDP co-chair, Pervin Buldan, recalled that HDP Hakkari MP Leyla Güven has reached day 90 of her hunger strike. "We'll break isolation, we'll make you live", said Buldan, adding that tonight a Vigil will be organised in Parliament by HDP deputies.
'We are here to be the voice of Leyla Güven'
Buldan said in her speech: "Today we have one single issue on our agenda, Leyla Güven. From Turkey to Hewlêr to many different cities in Europe, the voice of Leyla is resounding. We are here to be her voice."
Buldan recalled that "Leyla has reached today the 90th day of hunger strike. She started this resistance to demand the end of isolation. Leyla is not alone in her resistance. Our deputy in prison Selma Irmak and DBP co-chair Sebahat Tuncel are on the 21st day of the hunger strike. In prisons and abroad the number of friends on hunger strike is 315.
Hunger strike for peace and justice
For what? To bring justice and peace!" said Buldan.
Underlining that this year marks the 20th anniversary of isolation in Imrali, Buldan said that "for 20 years this country has been under isolation. When the isolation process was replaced by the solution, then the name of peace became life, the name of life became peace! Hopes were high! Faces smiled! Bright days began! But when isolation was brought back, then hopes were again blacked out and the country was dragged back into darkness.
Isolation is dark! Solution and peace are bright! Here, Leyla and her comrades put their life at stake to ensure a bright future for peace!"
Buldan went on: "Our promise to Leyla: The light in your eyes will never fade away! That light will be millions, it will continue to illuminate our future! Surely we will break isolation."
Call to all people and government
Pervin Buldan ended her remarks by calling "once again on all our people, the democratic public, everyone with a conscience: Let's be Leyla's voice. Let's make sure our friends on hunger strike live! Leyla's life is the life of the country!"
Buldan also called on the government: "Listen to the voice heard by the world. Don't destroy the common future! End isolation now!"