HDP MP Taşdemir: Minister Soylu resorts to lies and slanders
HDP MP Dilan Dirayet Taşdemir stated that Turkish Interior Minister Süleyman Soylu resorted to lies and slander. She emphasized that women will put an end to the AKP-MHP government.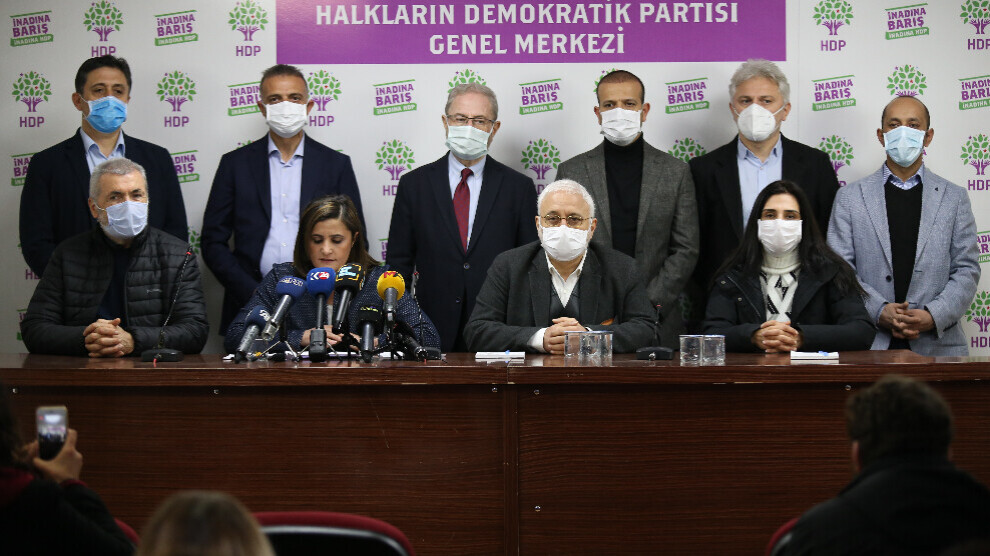 Targeted by Turkish Interior Minister Süleyman Soylu, Peoples' Democratic Party (HDP) Ağrı MP Dilan Dirayet Taşdemir held a press conference to decline the allegations against her at the headquarter of her party with Group Deputy Chair Saruhan Oluç and HDP MPs.
'THEY ARE ATTACKING AND SMEARING'
Stating that her party is faced with the heavy attacks and violence of the AKP government, Taşdemir noted that thousands of members, administrators and elected people have been arrested. "The hallmarks of the government are lies and slanders.  While the Minister of Interior, addressing the Parliament on February 16, should have answered for the Gare operation, he turned the HDP into a target. Soylu said that an MP from the Parliament went there without giving a name. The Minister created a certain public perception for four days. After four days, he appeared on a pro-government television channel and insulted our party for an hour. He turned this into a show by making such remarks as coming soon, just a moment. Then, he gave my name, but did not present any evidence. He committed a character assassination based on rumors", Taşdemir said.
'DID YOU WAIT FOR THE GARE OPERATION TO REVEAL IT?'
Stating that Soylu's allegations are "lies and slander", Taşdemir said, "If you had such information and documents, why did you not give it to the prosecutor but announce it on TV? Why did you wait for the Gare operation to reveal this? We know why this happens. This is a operation to save his office. That's why we are subjected to false news and slanders almost every day."
"I was really embarrassed while watching that TV program full of gossip and slanders, I was embarrassed in the name of journalism, on behalf of my country," Taşdemir said and added, "Not a single journalist asked the right questions, nor did they go through the remarks of Soylu.
'DISCLOSE FOOTAGE AND DOCUMENTS'
"The name of this kind of politics is called "Mud sticks". Soylu, who has adopted the Gülen Movement's methods, uses these methods to target my party and my personality and resorts to character assassination. We never accept this. I ask again: When, on what day did I go to Gare? Expose it with documents. Don't tell us stories", Taşdemir added.
"Minister of National Defense Hulusi Akar explained the details at the Parliament. When did I go to a region where even the army had difficulty to find access, when did I get training, when did I show up there and return? Is there a flight from Istanbul to Gare that we do not know of? Do I have special talents that I do not know, but that Soylu knows? He talked about camera footage, where is it? Where are these photos?", Taşdemir said.
'THE TARGET IS THE DEMOCRATIC POLITICS'
The HDP deputy continued: "The society is really tired of such lies and slanders. The people's problem is hunger; it is poverty, it is suicides. Imagine, 7 people commit suicide in a city on the same day out of poverty, a couple commits suicide after leaving their children to a neighbor. Those who have to resign are well-versed in attacking us."
"While there are so many problems, what is targeted through these slanders is actually democratic politics, not me. I have been a deputy for Ağrı for three terms. What I am doing is public. I worked as the spokeswoman for the Women's Council, I was a member of the KEFEK commission. I have been fighting for years over the question of women in Turkey and Kurdish women's movement."
'WOMEN WILL END THIS MENTALITY'
Taşdemir continued: "I take these slanders of Soylu for an assault all women. However, our women's struggle will put an end to this understanding of politics, you will see. Women's solidarity is determined to eliminate your lumpen and mafia politics. Let me express this too. I did not go to Gare. This is very clear. Allegations consist of lies and slander. Will the prosecutors, who opened an investigation on Sunday morning based on the statements of Soylu, open an investigation against him based on my statements? I want to ask that too.
I will use all my legal rights. I will file a criminal complaint and file a suit for damages. I will use the money for poor children in Ağrı.
I have been a member of parliament since June 7. I traveled abroad with my diplomatic passport, the places I went and attended are known and registered. The activities I participated in are also obvious. I did everything openly, I broadcast the events I participated in on my social media accounts. I definitely did not go to Gare. Soylu is lying. He points people as a target and slanders."