HDP deputies on day 27 of vigil against the isolation of Öcalan
Peoples' Democratic Party (HDP) deputies continue their vigil in front of the Turkish Parliament demanding an immediate end to the aggravated isolation regime imposed on Kurdish leader Abdullah Öcalan.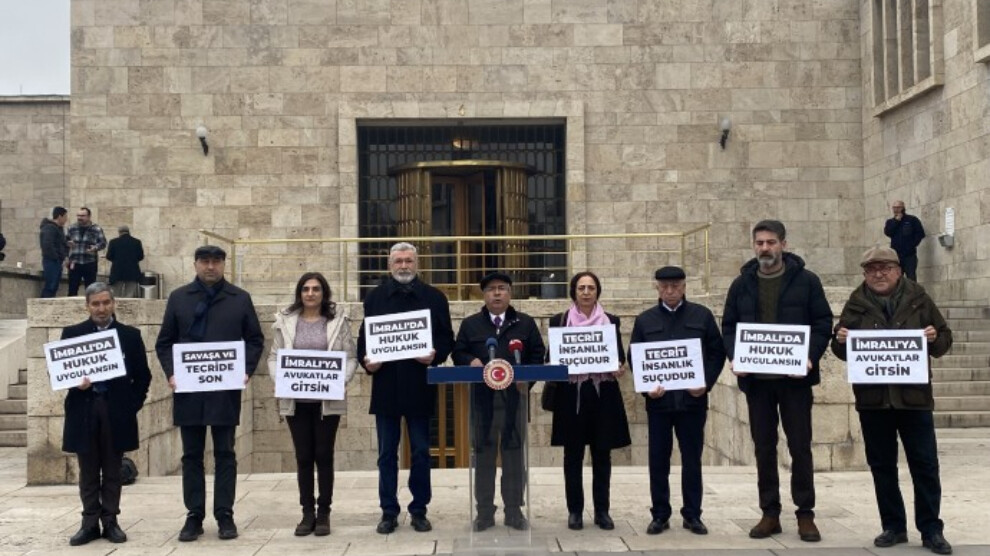 For 27 days, MPs from the HDP parliamentary group have been protesting for the lifting of the total isolation of Kurdish leader Abdullah Öcalan, of whom there has been no sign of life for 22 months. Day after day, the MPs try to march in front of the Ministry of Justice, but are prevented from doing so by the police and therefore make statements in front of the parliament. Today's protest was attended by MPs Şevin Coşkun, Hasan Özgüneş, Kemal Peköz, İmam Taşçıer, Muazzez Orhan and Murat Sarısaç.  The MPs carried signs reading "The law must apply to Imrali" and "Isolation is a crime against humanity".
Speaking here, HDP Amed deputy İmam Taşçıer expressed their concerns about the health and life of Abdullah Öcalan and his fellow prisoners Veysi Aktaş, Ömer Hayri Konar and Hamili Yıldırım. "International forces handed over Mr. Öcalan to Turkey following a conspiracy, imposing some international assurances. Yet, they do not keep their promise. Since the 1916 Sykes-Picot Treaty, which divided the lands of the Kurdish people into 4 parts, Kurds have been subjected to isolation and genocide."
Taşçıer continued: "The states that divided Kurdistan into 4 parts at the time do not want the Kurds to have a status and to govern themselves in their own lands. For this reason, Kurds should come together and form their unity so that they can break through the isolation and govern themselves. There are 30 million Kurds in this country, but they cannot even receive education in their mother tongue. They are not recognized by the constitution of the country, which denies the existence of 30 million Kurds. In this context, the isolation of Mr. Öcalan continues. We will continue our democratic struggle to lift this isolation. We call on the Minister of Justice and all authorized institutions to put an end to this isolation as soon as possible. As you know, Mandela became the president of his country after 27 years in prison."