HDP's Buldan: Mr. Öcalan is the key to peace
Buldan said: "We are ready to do our mediation once again, just like we did in the years 2011-2015. Because we know that the problem of democracy in this country will not be solved until the Kurdish problem is solved."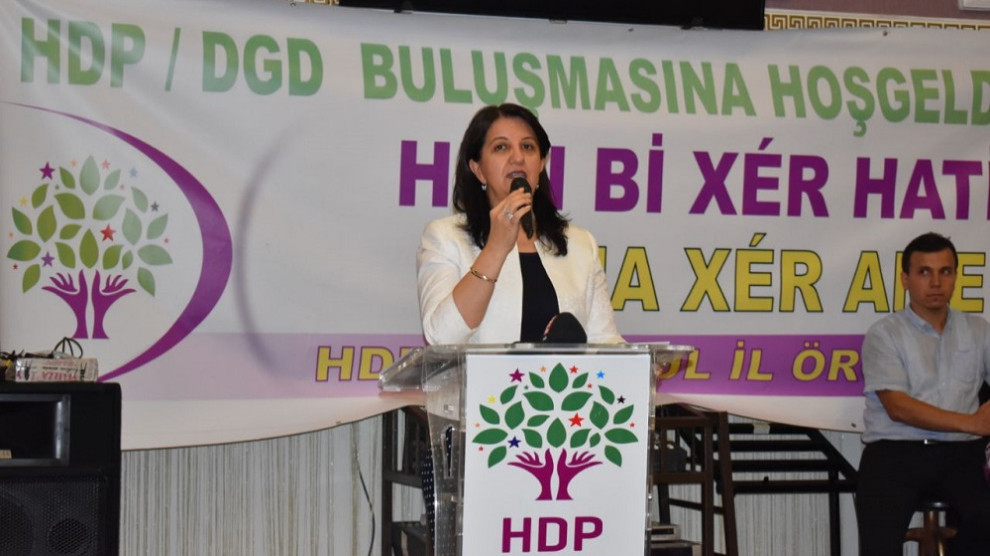 HDP co-chair Pervin Buldan met with the Eastern and Southeastern Associations Platform to exchange views on political developments and in particular the 23 June Istanbul elections.
Buldan said: "We're actually having an important meeting. We are facing with an event that will determine the fate of Istanbul. We all know the role and responsibility we will take to ensure the future of our children in the coming days, and years."
Buldan commended that  white headscarves mothers who defended their sons and daughters rights and life while on hunger strike by protesting every day despite the harassment and repression. 
Buldan also saluted and commended the hunger strikers and said: "We know that whenever there is isolation in this country, or whenever Mr. Öcalan is denied visits by his family and his lawyers, there are crises and chaos in this country. Whenever negotiations are held with Mr. Öcalan, then the atmosphere of peace and hopes for the future always rise in this country, just as it is today."
Buldan continued: "As Mr. Öcalan said, in his letter at the 2013 Newroz, commitment to democracy, peace and freedom have never been broken by Mr. Öcalan or Kurds. Mr. Öcalan once again expressed his support for peace and democracy and said that he was the interlocutor. We once again reiterate that yes, the address to peace is Mr. Öcalan. Mr. Öcalan is the person who needs to be taken into consideration in solving the Kurdish problem and in solving the problem of freedoms, peace and democracy."
Buldan added: "We can go back and forth, we can mediate. We are ready to do our mediation once again, just like we did in the years 2011-2015. Because we know that the problem of democracy in this country will not be solved until the Kurdish problem is solved."
Importance of the 23 June elections
Talking about the elections in Istanbul, Buldan said: "I believe that the success shown on 31 March will be shown on 23 June. The 23 June Istanbul elections are more than mayoral elections. It is an election in which light will destroy darkness. The Istanbul elections are an election for the oppressed against the oppressors."