HDP Ankara MP Önder: "Together we will win"
The MP introduced the HDP candidates to shopkeepers in Ankara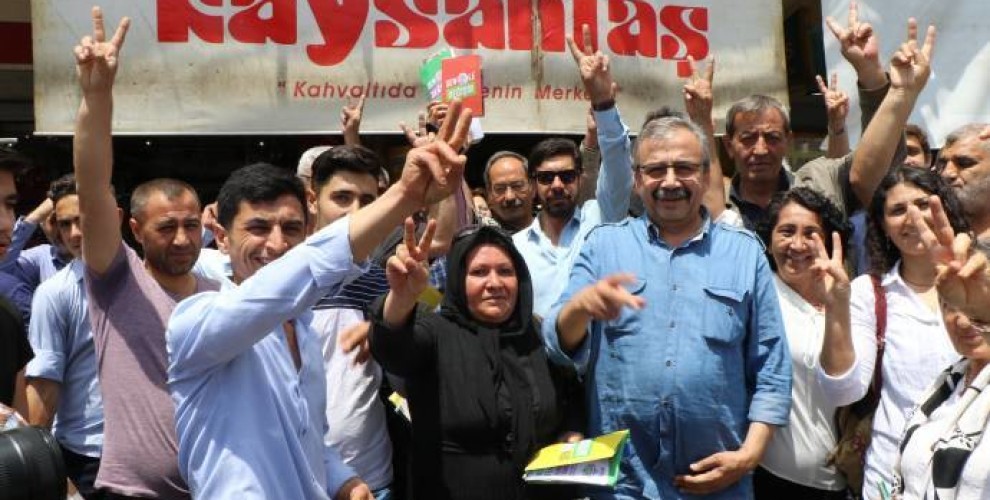 HDP Ankara MP, Sırrı Süreyya Önder, visited shopkeepers in Ankara together with the 24 elections HDP candidates in Ulus, Ankara. 
"Before we were going to people, now people come to us as soon as they see us", noted Önder who was surrounded by people in Ulus Square. Önder was with Ankara HDP candidates, Nuray Turkmen, İpek Gür and Rojen Mamo.
The HDP candidates listened to shopkeepers who listed their problems and requests. Shopkeepers were very supportive of the HDP, with less than a week left before the 24 June elections. 
Shopkeepers inevitably and understandably spoke about the economic crisis the country is facing which is making things very hard for businessmen and people in general.
One shopkeeper said: "If Demirtaş were elected president, problems will be solved". The deputy candidates remarked that the HDP is a party sensitive to all the problems of the society and gave a message of unity. "Together we can win", said the candidates.
One of the shopkeepers pointed out to HDP Ankara deputy Sırrı Süreyya Önder another man, who was selling corn on the street corner. "You see him, - he told the HDP deputy - he is selling corn but he has an engineering diploma in his pocket". These are the effects of the economic crisis, insisted the man.
Laughing at the question of one of the shopkeepers, 'why you are not a presidential candidate', Önder said: "I will come to your side now".
After the visit to the shopkeepers, Önder said: "The HDP has been reaching out to people with its own candidates in Ankara, like elsewhere. For us indeed this looks in many ways the easiest election, because if before we were going to people, now indeed people come to us as soon as they spot us".