Green Party office in Göttingen occupied
The initiatives "Defend Kurdistan" and "Women Defend Rojava" demand effective action against the Turkish attacks in Syria and Iraq. In Göttingen, activists have occupied the office of the Green Party.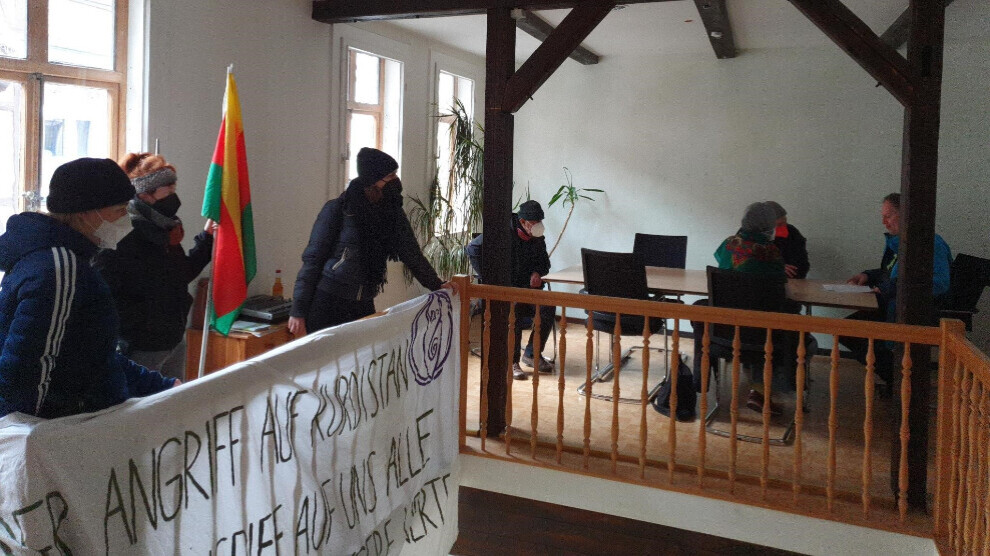 Activists from "Defend Kurdistan" and "Women Defend Rojava" occupied the Göttingen office of the Green Party on Thursday morning. The activists handed over detailed dossiers with background information and demanded consistent action from the local Green Party associations and the federal government against the current attack by the Turkish army on areas in Syria and Iraq.
"Defend Kurdistan" activists had occupied the SPD office in Göttingen last Friday in order to demand a statement from the party on the attacks. In the meantime, the Göttingen SPD association has publicly condemned the Turkish war of aggression as a breach of international law. Now the activists are also demanding a public statement from the Green Party on the list of demands that was handed over at the local Green Party office on Wednesday last week.
In a press release of 20 November, Jürgen Trittin, a member of the Green Party, condemned Turkey's military intervention as contrary to international law. Activists in Göttingen do not find this enough, saying, "Statements by MPs cannot have an effect if they remain isolated and are not followed by action. The local associations of the parties must increase the pressure on the federal level in a coordinated way until action is actually taken. With today's occupation, we want to make clear how serious we are about this," said Anna Brecht from the campaign Women Defend Rojava.
"Also, the much quoted 'feminist foreign policy' must not be used as an empty figurehead, say activists, according to whom the situation for the people in the affected areas requires quick action. "The establishment of a no-fly zone in northern and eastern Syria is a first step towards implementing a consistent stance against the war of aggression and stopping this form of war. The use of chemical weapons by the Turkish army in Southern Kurdistan must also be urgently investigated by the OPCW (Organisation for the Prohibition of Chemical Weapons)," demanded Kai Schuster of Defend Kurdistan Göttingen.
The catalogue of demands of the campaign from the Greens includes the following:
1) Advocate publicly and in your party for the Federal Republic of Germany to request the OPCW to investigate the chemical weapons attacks in Southern Kurdistan/Northern Iraq.
2) Publicly support the campaign for a no-fly zone over northern and eastern Syria #noflyzone4rojava.
3) Advocate publicly and in your party for Germany to impose an embargo on the supply of arms and arms parts to Turkey and Iran.
4) Advocate publicly and in your party for the lifting of the ban on the 'Kurdistan Workers' Party' (PKK), which is repeatedly used as a justification for the persecution and oppression of Kurdish and democratically-minded people in Germany, Turkey and the whole of Kurdistan.