Germany sentences Kurdish politician to 3 years and 3 months
Stuttgart's High State Court has sentenced Kurdish politician Muhlis Kaya to 3 years and 3 months in prison, bringing the number of Kurdish politicians sentenced by German courts in recent years to 9.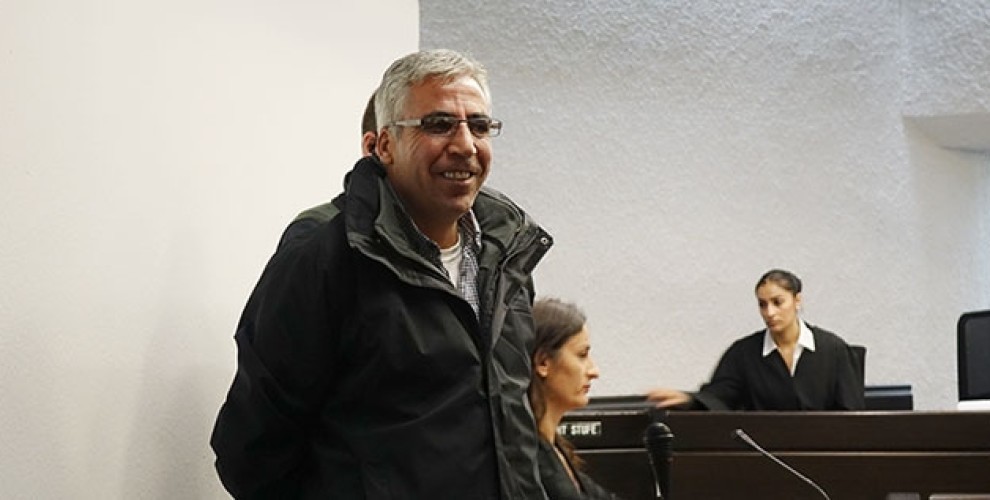 The trial of Kurdish politician Muhlis Kaya at Stuttgart's High State Court in accordance with the 129b article of German Criminal Code has been concluded today. Kaya, who is already jailed since 16 February 2016, has been sentenced to 3 years and 3 months in prison. Kaya has been denied abatement due to the act he stands trial for, and he will be released short before June, 2019.
KAYA: ATROCITY AGAINST KURDS ENHANCED WITH THE SUPPORT OF GERMANY
In his final statement of defense last week, Muhlis Kaya called attention to the violation of Kurdish people's rights and stated that the German government and courts were in cahoots with the Turkish state.
Kaya said: "Germany has always turned a blind eye and deaf ear to Turkey's massacres against the Kurds. The Turkish state's pressure and atrocity against the Kurdish people has been enhanced with the arms and political support Germany provides to Turkey. If Germany did not give this many arms and this much support to Turkey, the political and physical genocides against the Kurds would not have reached this level."
Stuttgart's High State Court last week rejected a demand for hearing Prof. Dr. Norman Paech during the trial for a presentation on Kurdistan and the Kurdish people's freedom struggle.
Demanding 3 year and 9 month prison sentence for Kaya, the court's prosecutor claimed that the trial was independent from domestic and foreign policy, arguing that: "We cannot have a purpose like backing Turkey. PKK is a banned organization in Europe and we made our decision based on fastenings and the data we have."
11 KURDISH POLITICIANS JAILED IN GERMANY
Of the 11 Kurdish politicians and activisits arrested in Germany in recent years, Bedrettin Kavak, Mehmet Demir, Mustafa Çelik, Kenan Baştu, Ali Özel, Ahmet Çelik and Ali Hıdır Doğan have been sentenced to prison sentences each, ranging from 2 to 3,5 years.
Apart from Muhlis Kaya, trial of Zeki Eroğlu is held in Hamburg. 3 year and 3 month prison sentence is sought also for Zeki Eroğlu who made his defense at court last week. The court verdict is expected to be announced on 21 July.
In the meantime, the trial of Hıdır Yıldırım, who is jailed since 11 October 2016 in line with an arrest warrant issued by the Regional Court of Berline, will begin in September.
Lawyers for Kurdish politicians have appealed to the Federal Constitutional Court for the revocation of the investigation permit for German Ministry of Justice that subjects Kurdish politicians to trial in line with the "anti-terror" act 129b. The Federal Court has not announced a decision on this appeal yet.
129b is among the most controversial anti-terror acts put into force by Germany after the 11 September attacks in 2003 to "smooth the international fight against terror". The act enables the trial of persons and groups involved in any kind of political act of violence outside Germany.
129b is grounded on the European Union's list of terrorist organisations in which the PKK was included on 2 May 2002.
On 26 November 1993, German Interior Minister Manfred Kanther of the Helmut Kohl government announced the ban on the PKK with a special bulletin prepared by the federal prosecution office. Dozens of Kurdish associations and establishments were closed and a systematic criminalization policy against Kurds was put into effect after the introduction of the ban on the party.
As Kurds continue fighting against ISIS barbarity on behalf of humanity, the German state has also become a part of the Turkish state's war against Kurds.
While it remains understandable that Turkey attacks Kurds to protect the ISIS, it raises question marks and suspicions why the German state is supporting Turkey which supports ISIS. Kurdish institutions evaluate this policy of the German state as an indirect support and morale to the ISIS.