German doctors: The state of the hunger strikers is concerning
The German doctors examining Mele Mustafa Tuzak, Omer Bagdur, Cemal Kobane and Siyar Xelil who continue their hunger strike in Berlin said their state is concerning.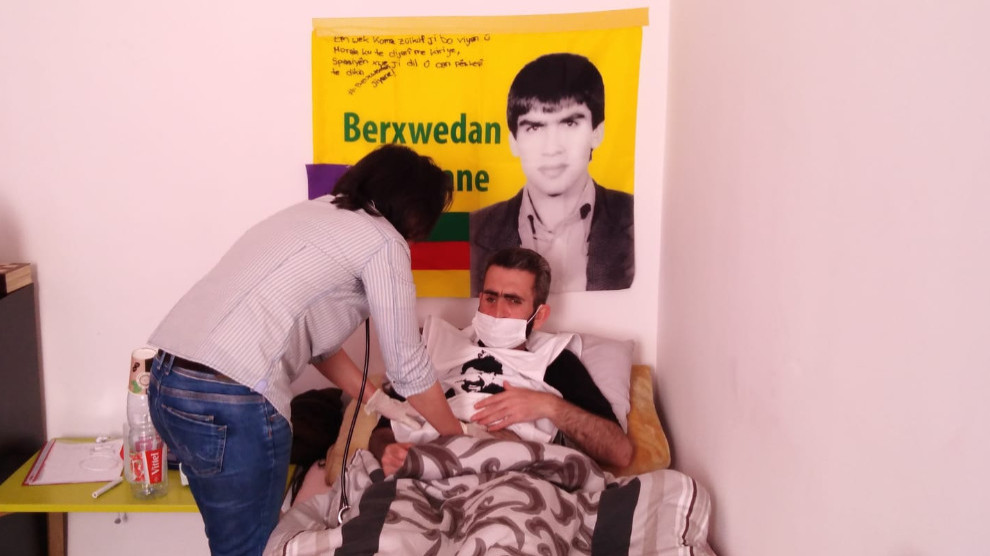 The Germany part of the hunger strike protests launched under the lead of DTK Co-Chair and HDP Hakkari MP Leyla Guven demanding an end to the isolation imposed upon Kurdish People's Leader Abdullah Ocalan continues with Cemal Kobane, Omer Bagdur, Mele Mustafa Tuzak and Siyar Xelil in Berlin.
Mele Mustafa Tuzak is on day 101 of his hunger strike while Cemal Kobane and Omer Bagdur are on day 85 and Siyar Xelil is on day 88. The activists continue their hunger strike in the Democratic Kurdish Social Center (NAV-DEM) offices and they have had two checkups since yesterday.
Dr. Mendaha Topuz was the first to examine the activists and said, "We see that their health continues to deteriorate. All symptoms are consistent with long-term hunger strikers. They occasionally spit blood, they are losing bone mass and their eyes don't see as well anymore."
DOCTORS WILL WRITE TO THE CHAMBER OF MEDICINE
Dr. Swaantje Illig and Dr. Ben Garabedian visited the activists this afternoon and gave them another checkup. Dr. Garabedian spoke to the ANF about the health of the activists and said: "Their health is concerning. If there is anything to be done, it must be done now. Otherwise it will be too late."
Dr. Garabedian said the activists have strong morale and continued: "They are losing serious amounts of weight. They reject all medical interventions except vitamin supplements. Tuzak and Xelil in particular are in a serious condition. Their action can result in irreversible outcomes."
Dr. Ben Garabedian added that he and his colleague Dr. Swaantje Illig will write a report on the health of the hunger strikers and submit it to Germany's Chamber of Medicine."