German cities protested against Turkish occupation of NE Syria
In many cities of Germany, Kurds took to the streets to protest against the Turkish invasion of Norther and Eastern Syria.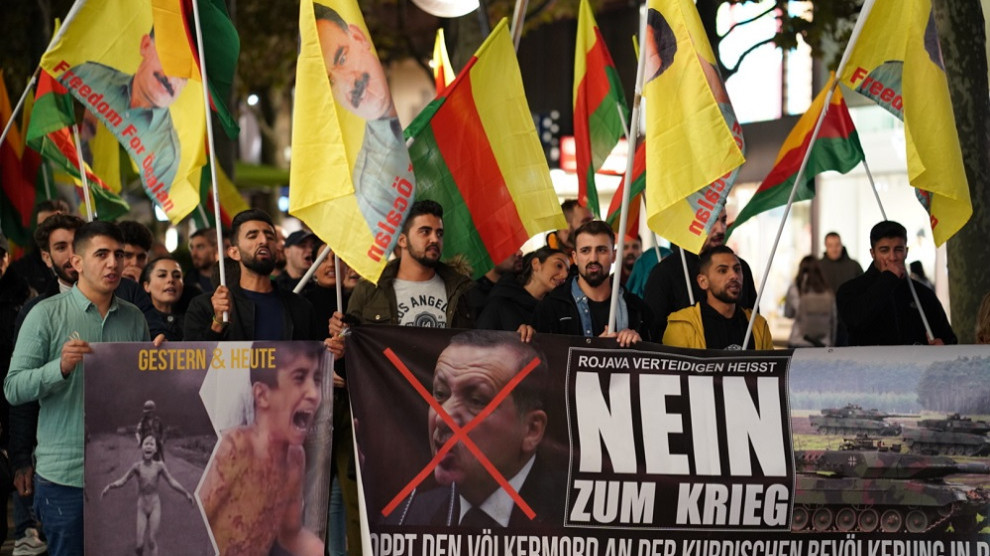 Kurds in Germany vowed to continue their actions until the occupation attacks end. 
COLOGNE
A demonstration was organized by the Kurdish Democratic Society Center in Cologne in front of the HBF.
Ozan Diyar, who spoke at the rally, told ANF that only the Kurdish people's resistance and freedom fighters could stop the chaos, imbalance and attacks in Rojava and that this was the only way.
Ozan Diyar stated that they knew that the Turkish army would not obey any international agreement and added that "Kurds should protest everywhere."
Emphasizing that the AKP-MHP fascist power is trying to prolong its life by attacking the peoples and the Rojava revolution, Diyar said: "As we resist, fascism will collapse."
STUTTGART
Defend Rojava Stuttgart Platform organised an action in Stuttgart.
A statement promoting the action said: "The Turkish state in Rojava is carrying out new civilian massacres day after day."
The walk ended in Kobanê square.
DÜSSELDORF
A demonstration was held in front of the HBF in Düsseldorf. During the action leaflets were handed out to inform the public about the Turkish state attacks.
HEILBORNN
The invasion and genocide attacks carried out by the Turkish state were protested in Heilbornn.
LAHR
A protest was held in Lahr, Germany. The walk organized by the DKTM started in front of Lahr Train Station. Hundreds of people joined the action.
In the statement made in the action, it was stated that the Turkish army and its mercenaries should withdraw from Rojava.
BREMEN
An action was organised in Bremen. In the speeches made in the action, it was stated that the Turkish state was carrying out an occupation of Northern and Eastern Syria using chemical weapons against civilians.
SAARBRÜCKEN
The action in Saarbrücken saw a big crowd marching towards the city center.
Speaking on behalf of the Saarland Kurdish Community Center the massacre of civilians and children was condemned. 
MUNICH
An action was organized in Munich to protest the attacks of the Turkish state against Northern and Eastern. 
LEIPZIG