Fourth hearing in Kobani Trial continues
The Kobani Trial hearing continues with the defence of the lawyers. Defence Lawyer Nuray Özdoğan said that "Obviously, this trial began in an office room of a political party".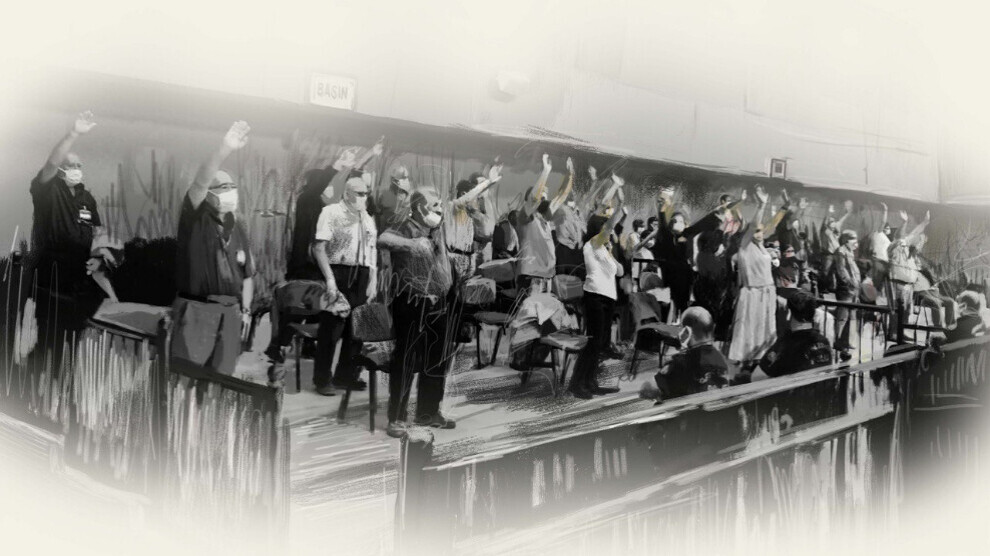 The 4th hearing of the case against 108 people including HDP's jailed former co-chairs and its top officials, is continuing at the 22nd High Criminal Court in Sincan Prison Complex. The trial deals with the allegations concerning the protests on October 6-8, 2014 against the ISIS attack on Kobani.
HDP co-chair Pervin Buldan spoke briefly with former HDP co-chair Selahattin Demirtaş who is jailed in Edirne Prison via sound and video information system (SEGBİS).
As Buldan said,"We missed you. We will come to visit you soon", Demirtaş replied with a smile, saying, "Come for a visit, but do not come for another reason". "I hope you will come," Buldan told Demirtaş. Speaking in Kurdish with other Kurdish politicians, Demirtaş conveyed his greetings to the public.
As the hearing resumed after a pause, lawyer Mesut Beştaş continued to voice their demands and talked about the immunity of some of his deputy clients.
Stating that Demirtaş's file is a pilot-scheme, Beştaş emphasized that the ECtHR's recent decision regarding Demirtaş concerns all proceedings.
HDP Honorary Chair Ertuğrul Kürkçü's lawyer, Mehmet Oruç, revealed that his client's statement was not taken during and after the preparation of the indictment.
Selahattin Demirtaş's lawyer, Cahit Kırkazak, focused on the crackdown on those who wanted to monitor the hearing.
"Four lawyers were stopped at the Yenikent entrance of the prison; we were not allowed in, and our car was photographed. They say they received instructions from the court, yet we have just learned that they lied to us. That's why our colleagues tried to reach you. It is your and our duty to ensure publicity in this trial. But we could not reach you. We should be able to reach you in all matters related to the litigation process. The trial did not start in this courtroom, nor in the prosecutor's office, nor in the police station. Obviously, this trial began in the office room of a political party," Nuray Özdoğan, the lawyer of former HDP MP Emine Beyza Üstün, said.
ÖHD (Association of Lawyers for Freedom) Ankara Branch co-chair Şevin Kaya said, "It is not possible to hold a trial in a courtroom where even lawyers are not allowed to enter."
After lawyers, Can Memiş, a former member of HDP Central Executive Board spoke. Memiş stated that his lawyers were not present at the hearing and demanded to be exempted from the case.
Former HDP deputy Altan Tan attended the hearing via sound and video information system (SEGBİS) and responded to the accusations against him in the indictment.