Families of Imrali prisoners visit the HDP in Parliament
The families of the prisoners on Imralı visited the Peoples' Democratic Party (HDP) parliamentary group in the Turkish Assembly and reiterated their request to visit their relatives.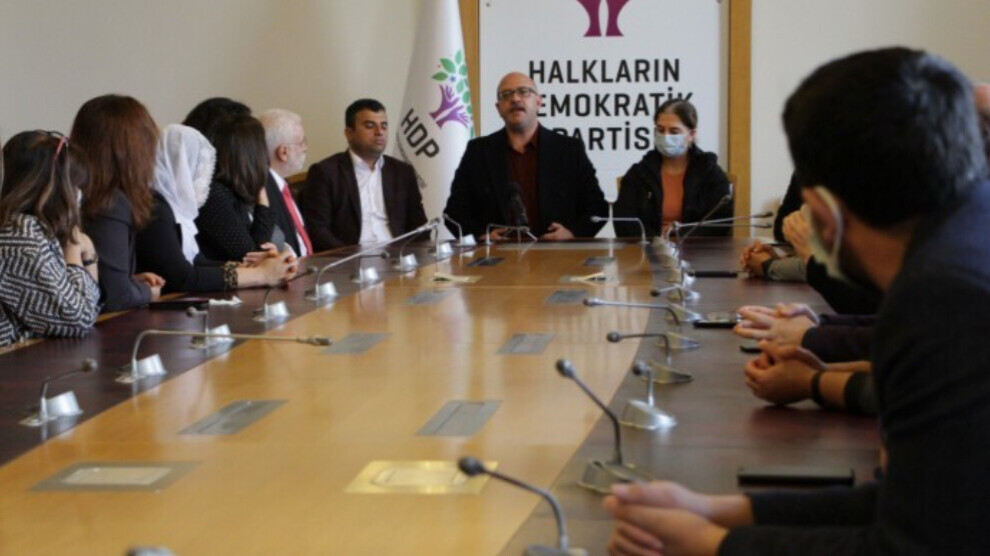 The relatives of Kurdish leader Abdullah Öcalan, Ömer Hayri Konar, Hamili Yıldırım and Veysi Aktaş have paid a visit to the HDP parliamentary group in the Turkish assembly.
A delegation which consisted of Abdullah Öcalan's nephew Ömer Öcalan, Ömer Hayri Konar's brother Emin Konar, Veysi Aktaş's sister Sabiha Aktaş and Asrın Law Office lawyers Özgür Faik Erol and Serbay Köklü spoke to the HDP parliamentary members.
The families were welcomed by HDP group deputy chairs Meral Danış Beştaş and Saruhan Oluç, HDP Parliamentary Human Rights Commission members, HDP deputy co-chair Tayyip Temel and deputies.
'PARLIAMENT MAKES LAWS, BUT WE CAN'T ENJOY THEM'
Speaking on behalf of the families during the visit, Özgür Erol, one of the lawyers of the Asrın Law Office, stated that they made this visit to address the isolation in İmralı prison.
Ömer Öcalan pointed to the incapacity of the existing laws in the country. "This is the place where the laws are made, a place where the legislative activity takes place, but we cannot enjoy them."
"We are pushed outside the legal system. There are 4 people in İmralı Prison, namely Abdullah Öcalan, Hamili Yıldırım, Veysi Aktaş and Ömer Hayri Konar. We do not have any information about their life and health conditions. Some meetings take place only under extraordinary circumstances. As you all know, one of them was the last phone call with Öcalan that was interrupted. No information has been received about the detention and health conditions, protection measures against the pandemic and similar issues since Mr. Öcalan's call was interrupted. While Yıldırım's call lasted short, Konar and Aktaş allegedly did not want to make phone calls to protest the isolation conditions," MP Öcalan said.
'WE ARE CONCERNED ABOUT THEIR LIVES'
Öcalan emphasized that families want to receive information about their relatives, saying, "We want to receive information about their life and health conditions. Our demand is both humane and legal. We appreciate HDP's efforts, yet we have growing concerns. We are seriously concerned about the lives of Mr. Öcalan and the other inmates. We wonder if the state officials are hiding something there."
'CRISIS ESCALATES AS ISOLATION ON IMRALI IS AGGRAVATED'
Öcalan called on people to undertake responsibility, stating, "As the isolation in Imrali prison gets aggravated, the crisis in the country is escalating. The social problems in Turkey are getting serious and the isolation is leading to a deadlock in the Kurdish issue."
"We would like to visit our relatives based on our legal and human rights. The Ministry of Justice should not deny this right or create barriers to us. However, what is happening now is the exact opposite of what the Ministry of Justice said a year ago. They emphasized before the Istanbul elections that there was no obstacle to lawyer and family visitations, but unfortunately, we have concerns about whether our relatives on Imrali are alive or not. We are looking for an official response to that," Öcalan added.
BEŞTAŞ: UNPRECEDENTED UNLAWFULNESS AND TORTURE METHODS
HDP group deputy chair Meral Danış Beştaş said that her party closely monitors the isolation and systematic torture. "We are facing unprecedented unlawfulness and torture methods in Turkey," she remarked.
"We guess that the inmates who are not allowed to meet their families and lawyers and to send and receive letters are also putting up great resistance against the deprivation of these rights. As you said, we do not accept this state of indifference and lack of information for 8 months concerning a prisoner like Mr. Öcalan, whose influence on the Kurdish people is undisputed. We would like to express that these initiatives are important, and we support them. We will continue to do our best to end this isolation, at least with regard to securing legal and constitutional rights both in the parliament and in the public sphere," Beştaş added.
RELATED NEWS: