Elected officials launch hunger strike in front of UN for Afrin
MPs and Co-mayors have launched a hunger strike in front of the UN Geneva Offices to support Afrin under genocidal attacks by the Turkish state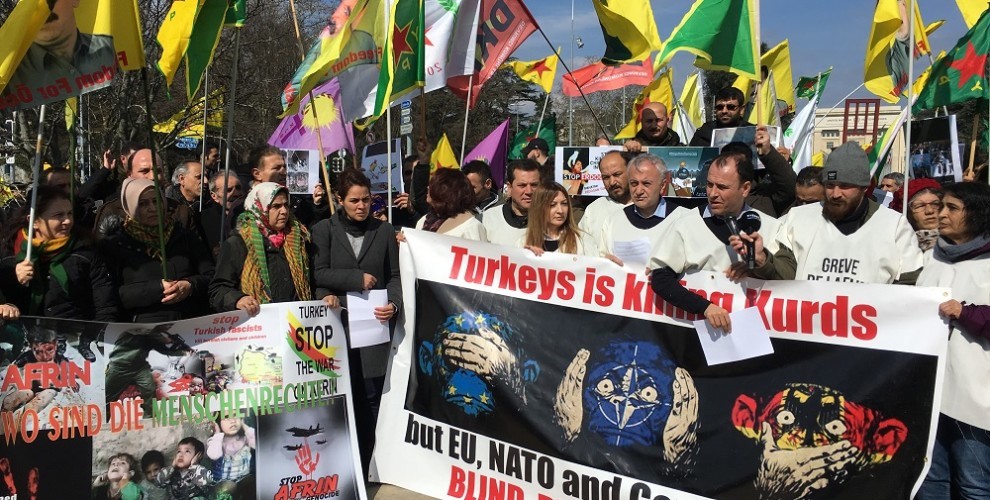 Former HDP Muş MP and HDK-Europe Spokesperson Demir Çelik, HDP Şırnak MP Faysal Sarıyıldız, HDP Van MP Özdal Üçer, Cizre Co-mayor Leyla İmret, Karakoçan Co-mayor Burhan Kocaman, Suruç Co-mayor Orhan Şansal, Sur Co-mayor Fatma Şık Barut, London-Haringey Mayor Aligül Özbek, football player Deniz Naki, journalist Filiz Koçali and Feyzullah Tunç from the HDK have launched an indefinite hunger strike in front of the United Nations (UN) Geneva Offices to support Afrin under invasion by the Turkish state and their allied gangs. Many Kurdistanis and allies also support the protest of the elected officials.


"TURKISH STATE ATTACKED PEOPLE FLEEING ISIS"
The elected officials announced the hunger strike with a press conference and HDP MP Faysal Sarıyıldız read the joint statement. Sarıyıldız called on the United Nations Secretary General and the Security Council officials and started his speech with a reminder that hundreds of thousands of people from various regions have sought refuge in Afrin since 2011 when the Syrian civil war broke out.
"Since January 20, 2018 civilians who sought refuge in Afrin city center have been subjected to 58 days of intense bombings by the Turkish state and the tens of thousands of jihadis that accompany them," said Sarıyıldız and continued:

"WAR CRIME ACCORDING TO UN LAWS"
"According to statements by various institutions like the Syrian Observatory for Human Rights who are in opposition to the Syrian regime, Afrin Canton Health Committee and the Avrin Hospital, hundreds of civilians have lost their lives and suffered wounds in the Turkish state bombings of civilian residential areas with fighter jets, tanks and Howitzer artilleries. Many of the civilians were women and children. The hospital in Afrin that was treating hundreds of wounded civilians was bombed by Turkish armed forces. This attack constitutes a war crime according to UN resolutions. Like UN Secretary General Mr. Antonio Guterres has stated, there has been a human tragedy in Afrin. The potable water plant that provides water for the hundreds of thousands of people in Afrin city center was bombed by Turkish jets, and the people were deprived of clean water. That also constitutes a war crime according to UN resolutions."
"THE UN IS RESPONSIBLE IN THEIR SILENCE"
Sarıyıldız said the Turkish state didn't comply with the UN Security Council resolution for a ceasefire and intensified their attacks against Afrin, and continued:
"The Turkish state cites the excuse that they are 'fighting ISIS' as part of their reasons to attack Afrin, but this has been refuted by Coalition spokespeople themselves. They have stated that as there is no ISIS in Afrin, the region doesn't fall under the area of responsibility for the international coalition to fight ISIS. At the current stage, the Turkish army's aerial and terrestrial bombings have forced hundreds of thousands of Afrin residents out of their homes. Afrin city center has been taken by the TAF-backed FSA, a group of fundamentalists on the same line as Al Qaeda/ISIS. In videos they themselves published, homes and shops can be seen looted and burned in Afrin. Salafi FSA groups gathered from around the world will be settled in Afrin, which will in turn mean that ISIS and its variants will spread again in Syria. ISIS and Al Qaeda will come back to life in Syria. The ones responsible for this are the Turkish state, and the United Nations which has failed to take action against their illegitimate invasion."
"UN AND EU KEPT SILENT AGAINST CRIMES AGAINST HUMANITY"
Sarıyıldız stated that with the Turkish state and their gangs invading Afrin, the whole world will have to deal with the gangs defeated by Kurds' efforts once again. "International institutions with the authority to impose sanctions like the EU and the UN have merely watched the atrocities and the crimes against humanity, and will be convicted in the conscience of humanity. These institutions have suffered great hits to their credibility and their respectability. Even though the UN's resolution for a ceasefire in Syria was violated with great crimes against humanity and war crimes, the UN has remained silent, indirectly approving. All statements made during this process, all stances taken by all actors have already been etched in the collective memory of the Kurdish people and the peoples of Syria."

DEMANDS
Sarıyıldız concluded with a list of demands, after saying: "The UN should intervene urgently, in accordance with their founding philosophy."
The demands are:
- Afrin airspace should be closed for flights.
- The UN should send an observation force to Afrin.
- The Red Cross should intervene as soon as possible to fulfill the vital needs of hundreds of thousands of people who have had to leave Afrin and are now living out in the elements.
- The people of Afrin who were pushed out of their homes should be allowed to return home.
- As part of the protection of the right to individual property, homes, shops and other assets that have been usurped should be returned to their owners.
- Security measures should be taken to ensure that the people returning home will not suffer torture, disappearances, killings or attacks.
- People not from Afrin should not be allowed to settle in anywhere else other than the UN-monitored camps to avoid the change in Afrin's demographic make up.
- A UN commission should be formed to investigate the violations of the right to life for the civilians who suffered 2 months of attacks and the war crimes.