New hearing at trial against directors of Bakur documentary
Award-winning filmmaker Çayan Demirel and veteran journalist Ertuğrul Mavioğlu are under trial for their documentary 'Bakur'.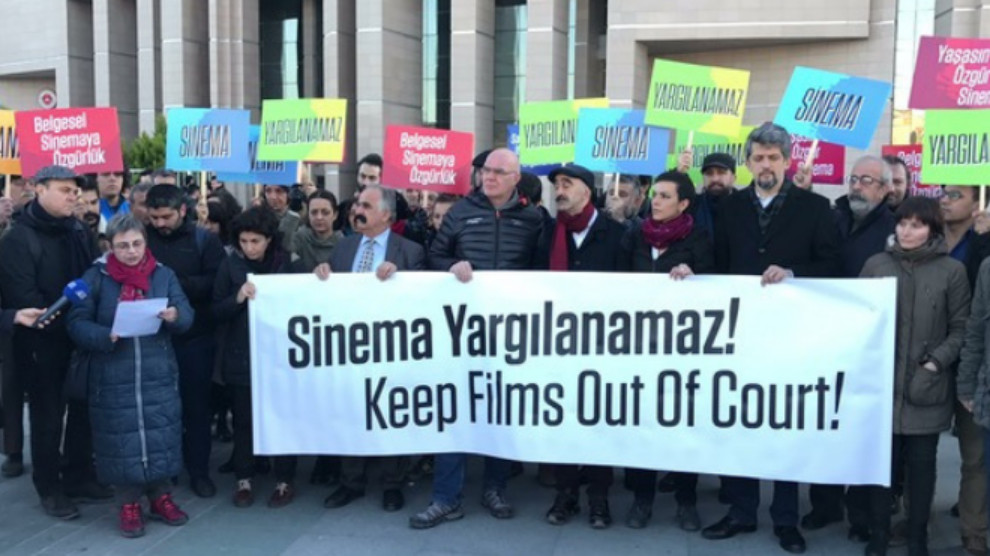 Award-winning filmmaker Çayan Demirel and veteran journalist Ertuğrul Mavioğlu, the two directors of the documentary Bakur (North), are facing up to 5 years in jail on charges of "terrorist propaganda."
Bakur was shot during the 2013-2015 peace talks between Turkish government and Kurdistan Workers' Party's (PKK) to end the 40 year long Kurdish-Turkish conflict. Nearly three years after the film's Turkish premiere, the directors were brought to trial. Both of them stand charged with disseminating propaganda in favor of a terrorist organization under Article 7/2-1 of Law no. 3713 on Counter-Terrorism for their documentary film Bakur and face up to five years of imprisonment.
This has been the first court case in Turkey's recent history to put filmmakers on trial with prison sentence for their film.
On Wednesday a press statement was organised by Susma (the Platform against self-censorship and censorship) with the participation of scores of directors, actors, cinema people. The statement called for an end to this "unjust trial, which is not only against universal law but also against the Constitution, the European Court of Human Rights and the Constitutional Court decisions. "
CASE BACKGROUND
For decades Turkey has silenced reports on the armed conflict with the Kurds. Bakur investigates issues of national identity, the history of the PKK, human rights, and the role of women in the conflict. The narrative is set against a backdrop of scenes from different PKK training camps in the mountainous border region between Turkey, Syria, and Iraq, where the directors met confident young PKK members.
The film is both honest and personal, linking individual lives with ideas of home and the right to resistance. The film expands this personal angle through political and historical evaluations by military and political PKK leaders. Bakur takes a clear political stance reclaiming self-determination as a universal human right.
Speaking about the film, Ertuğrul Mavioğlu said: "While making this film, Çayan and I focused entirely on the documenting the peace process. Any propaganda one can find in this film would be a propaganda for peace. Yet whenever we say 'Peace' the state tends to hear it as 'Terror' and they base their allegations on this perception. For me, this case is illegitimate and against law." 
Since 2015 the film has been playing at prestigious international festivals, and brought home Best Documentary Awards from Berlin-based Festival International Signes de Nuit, Mexico International Film Festival, and Mediterranean Film Festival.