Demonstrations for Öcalan in Russia, Germany and France
Kurds living in Russia, Germany and France protested the aggravated isolation imposed on Kurdish Peoples Leader Abdullah Öcalan by the Turkish state.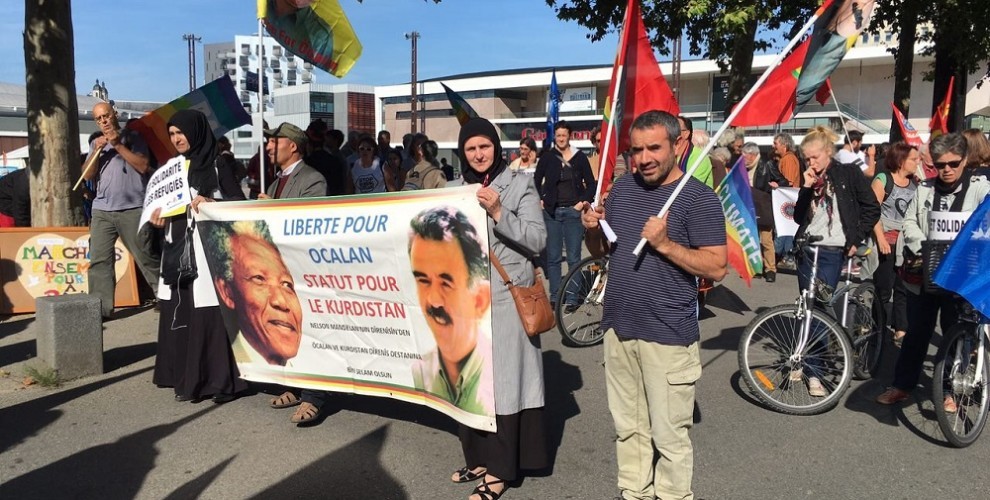 Kurdish people continue their demonstrations demanding freedom for the Kurdish leader Abdullah Öcalan who is held in aggravated isolation by the Turkish state since 1999.
RUSSIA
Upon the initiative of Adygea Kurdish Cultural Autonomy Centre, Kurds living in Russia's Autonomous Republic of Adygea gathered in a meeting and condemned the isolation imposed on Öcalan.
Xwedê Ehmed spoke on behalf of Adygea Kurdish Cultural Autonomy Centre, and stated that the fascist Turkish state aims to break the will of the Kurdish people through the isolation executed on Öcalan.
Ehmed said the Kurdish people will break the isolation with the enhancement of the struggle, and continued as follows:
"The isolation the fascist Turkish state imposes on Öcalan is unparalleled in history. International powers are supporting this isolation by keeping silent in the face of this inhumane practice. The purpose of this isolation is to break the will of the Kurdish people. The Kurds have the strength to frustrate this dirty game and they will never bow the head to this atrocity. We may be thousands of kilometers away from Kurdistan, but we must stand up for our leader with our stance and struggle. All Kurds should join the struggle to foil this dirty game, no matter where they are."
GERMANY
In German city Siegen Pakîze Nayir Women's Council organised a tent activity and sit-in for two days in protest against the aggravated isolation on the Kurdish leader.
The activity was  staged in front of the Kölner Tor, the busiest area of the city, and drew much attention from the people. The activists provided information on the system of torture perpetrated against Öcalan in the Imrali Island Prison, and listed the human rights violations committed by the Turkish state. Hundreds of leaflets were distributed on the issues to the local people who showed great interest.
The female activists said they will enhance the activities until the isolation on Öcalan is lifted.
FRANCE
On the other hand, the isolation of Öcalan was also protested in Saturday's "No War, Yes Peace" march staged in French city Rennes.
Kurds under the lead of Democratic Kurdish Society Center in Rennes joined the march from Charles de Gaulle Street to the towards Republique Square. Holding images of Öcalan and Kurdish flags, they denounced the isolation of the Kurdish leader and massacres perpetrated in Kurdistan.
The march ended with a rally where a speech was made also on behalf of the Democratic Kurdish Society Center.
The event was organised by the following institutions: Mouvement de la Paix, ATD Quart monde, Cgt, Parti communiste jeunes communistes, Arac, M.I.R. Declic Femmes Rennes, CDK R Amara, Ligue des droits de l'homme, Union démocratique bretonne, Jeunesse Ouvrière Chrétienne, pacifistes d'Argentine, Allemands and Bosnie.