Demirtaş: I do not expect justice from this court
Selahattin Demirtaş, former HDP co-chair, said in his defense speech at the court in Ankara: "I have neither the hope nor the expectation that this court will exercise justice."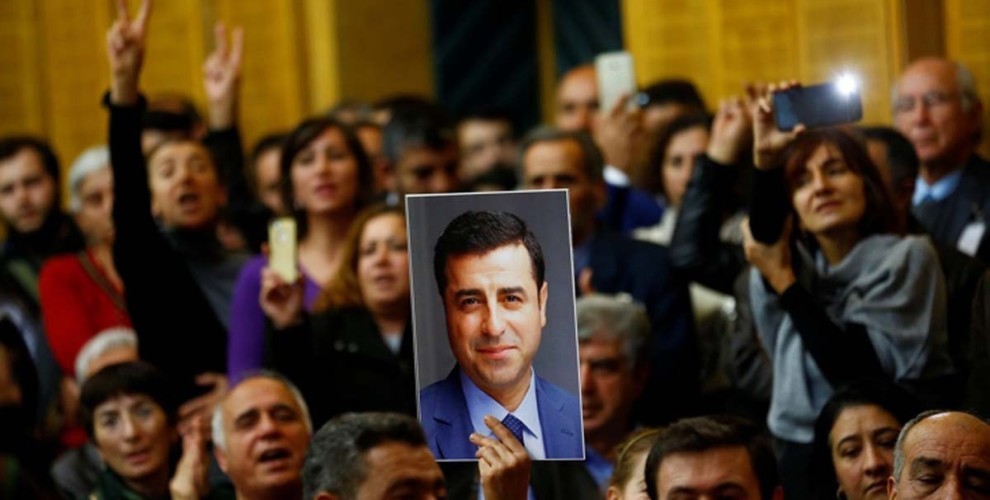 The third hearing in the trial of detained former Co-chair of the Peoples  Democratic Party (HDP) Selahattin Demirtaş continued in Ankara on the third day with the defense speech of the accused.
The trial at the Sincan Prison Complex was followed by HDP MPs as well as CHP Deputy Co-Chair Tekin Bingöl. As in the two trial days before, the number of spectators was limited to 50 people. Demirtaş commented on the failure of the solution process and said that then Prime Minister Davutoğlu had never believed in a solution process: "He is a shortsighted politician who has taken the neo-Ottoman imperial organization of the state into his head. He never regarded the Kurdish people as equal. He is a warmonger who has done his part to end the solution process. "
"I do not expect justice"
Demirtaş continued, "The role of politics is to create and enforce alternatives. A politician who does not do so is a shortsighted, cheap politician who feeds on blood. Thank God our conscience can be reassured in this regard, because we have made every effort to the end. If I could save even one human life, I would spend a thousand years in jail. If we prevented the intensification of the fighting, could only extend the duration of the peace process for one day and save one person, I would face a thousand years in prison. But can those responsible for the massacres of thousands who live in luxury and have the state in their hands, even if their rule continues to their will, feel the calm that I feel in my F-Type cell? They cannot do that. I am very calm. I live in a cell of the Edirne F-Type Prison in much greater peace than they do in their luxury palaces. And I will stay there. I have neither the hope nor the expectation of justice from this court."
"I am not here to defend myself"
Demirtaş added, "I am not here to defend myself against these accusations, I came here to publicly expose their crimes!"
"Even if they impose a lifelong ban on me, I am a politician. I also do politics in my cell. It is us who will decide the election of the President. We are the castle and we are the key. It is us, even if I am imposed a policy ban. The castle is in our hands. We'll see what happens. "
Demirtaş said he had walked upright to Edirne's prison and would leave it upright again: "A suggestion to my friends: If I die, then my coffin should be carried upright, not lying down."