Court rules to continue detention of Kobanê Case defendants
Announcing its interim decision in the Kobanê Case, the court board ruled to continue the detention of 21 people. Next hearing on 8 November.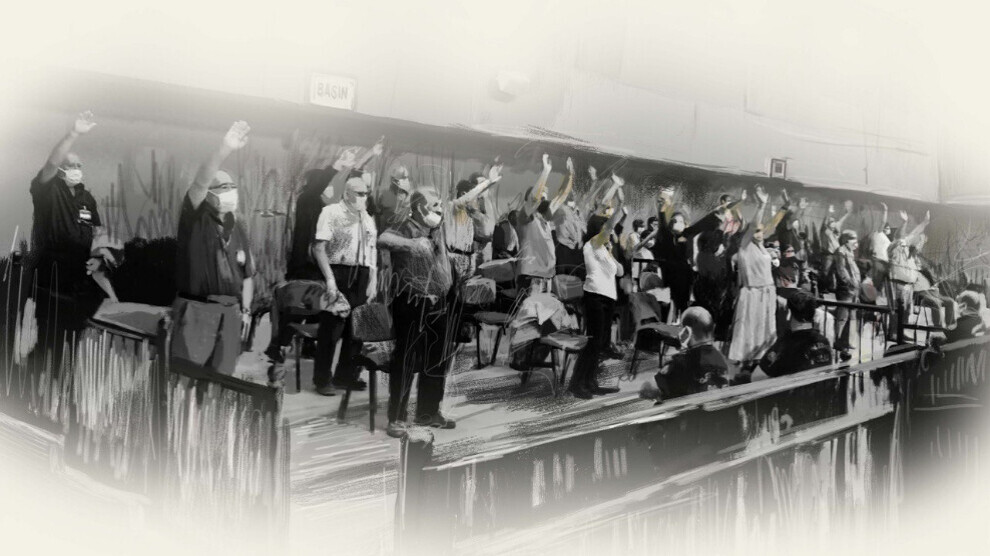 HDP former co-chairs, HDP Central Executive Board (MYK) members and executives, 21 of them in prison, are under trial for the protests on 6-8 October 2014 over the ISIS attacks on Kobanê. The 7th session of the 5th hearing of the case was held at the Sincan Prison Campus.
In addition to lawyers, HDP MPs Tülay Hatimoğulları, Sezai Temelli, Murat Sarısaç, Ayşe Sürücü, Serpil Kemalbay, HDP Ankara provincial and district organization members and administrators, and many people from Eskişehir and Kırşehir attended the hearing at the Ankara 22nd High Criminal Court.
While the politicians held in Sincan Prison were present in the courtroom, other politicians attended from the prisons where they are detained through the Audio and Video Information System (SEGBİS). Former HDP MP İbrahim Binici, who was released during the previous hearings, was also present in the courtroom.
Speaking at the hearing, lawyer Şevin Kaya said: "One-week trial period is not acceptable. There are those who can't defend themselves yet. There are politicians who have not yet done a file review. In line with the instructions given to you, you are trying to close the case as soon as possible."
Lawyer Serdar Çelebi pointed out that the health status of former HDP MP Aysel Tuğluk, who is imprisoned in Kandıra Women's Closed Prison, is well known by the court and said: "The Forensic Medicine Institute process continues. Apart from being in prison, she is not in a position to defend herself in a healthy way. Apart from a technical issue, this is also a humanitarian and conscientious issue. There is also no concrete evidence in the file that would require punishment. Considering these issues, we demand her release."
After the defense of the lawyers, the prosecution announced its interim decision. The prosecution said: "It is understood that the defendants have a strong suspicion of committing crime, that there is a suspicion of escape, that the condition of judicial control will be insufficient due to the gravity of the crime" and ruled for the continuation of their detention.
Regarding the detention status of HDP former co-chair Selahattin Demirtaş and the European Court of Human Rights ruling, the court said: "It was seen that our court made a request for release in line with the decision of the ECtHR within the scope of previous detention decisions, the files opened against Demirtaş were combined, and it is not possible to ignore the evidences contained in other files." The court claimed that the decision of the Grand Chamber of the European Court of Human Rights had nothing to do with them and decided to continue his detention. The same decision was taken about HDP former co-chair Figen Yüksekdağ.
The Court also decided to keep in prison TJA Spokesperson and former deputy Ayla Akat Ata, HDP former spokesperson Günay Kubilay, HDP new term Central Executive Board (MYK) member Alp Altınörs, HDP Foreign Relations Commission member Nazmi Gür, HDP Radio and Television Supreme Council (RTÜK) member Ali Ürküt , HDP former Council members Bülent Barmaksız, İsmail Şengül, Mesut Bağcık, Bircan Yorulmaz, Dilek Yagli, Pervin Oduncu, Ayşe Yagci, Zeynep Ölbeci, HDP ex-MP Aysel Tuğluk, former Democratic Regions Party (DBP) Co-chair Sebahat Tuncel, trustee appointed Amed Former Co-Mayor Gültan Kışanak, HDP former Council members Nezir Çakan and Meryem Adıbelli, and women activist Aynur Aşan. The decision was motivated by the statements of confidential witnesses, strong suspicion of crime and suspicion of escape.
The hearing was adjourned until 8 November.
8 people released
Kars Municipality co-mayor Ayhan Bilgen, who was replaced by a trustee, HDP former Council members Berfin Özgü Köse, Can Memiş and Cihan Erdal, former MP İbrahim Binici, Emine Beyza Üstün, HDP former treasurer Zeki Çelik and Former DBP Co-chair Emine Ayna was released on condition of judicial control at earlier hearings.