CJTFOIR statement on the downing of Syrian jet
The US-led anti-ISIS Coalition stated that a Syrian regime jet was shot down following an attack on SDF forces south of Tabqa.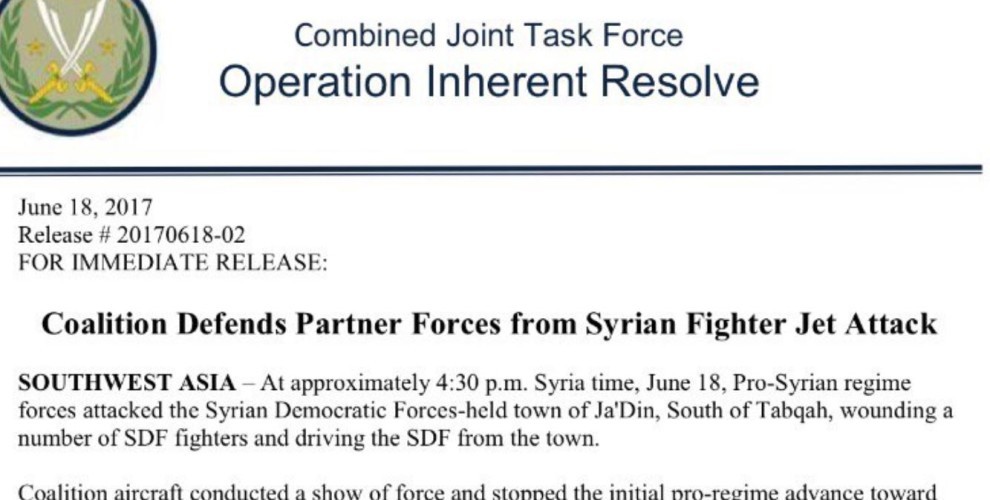 The US-led anti-ISIS coalition Combined Joint Task Force – Operation Inherent Resolve (CJTF–OIR) has released a statement regarding the downing of a Syrian jet near Tabqa Sunday afternoon.
According to the statement, titled "Coalition defends partner forces from Syrian fighter jet attack", at approximately 4:30 pm June 18 pro-Syrian regime forces attacked the Syrian Democratic Forces-held town of Ja'Din, south of Tabqa, wounding a number of SDF fighters and driving the SDF from the town.
The statement said that Coalition aircraft conducted a show of force and stopped the initial pro-regime advance toward the SDF-controlled town. Following the attack, the Coalition contacted its Russian counterparts to de-escalate the situation and stop the firing.
"At 6:43 pm, a Syrian regime SU-22 dropped bombs near SDF fighters south of Tabqah and, in accordance with rules of engagement and in collective self-defense of Coalition partnered forces, was immediately shot down by a U.S. F/A 18E Super Hornet", said the statement.
CJTFOIR remarked that the Coalition's mission is to defeat ISIS in Iraq and Syria, adding: "The Coalition does not seek to fight Syrian regime, Russian, or pro-regime forces partnered with them, but will not hesitate to defend Coalition or partner forces from any threat."