Civil disobedience against isolation continues in London
As the civil disobedience protest launched in the London offices of Amnesty International against the isolation imposed upon Ocalan continues, another act of civil disobedience was carried out in the offices of national television networks.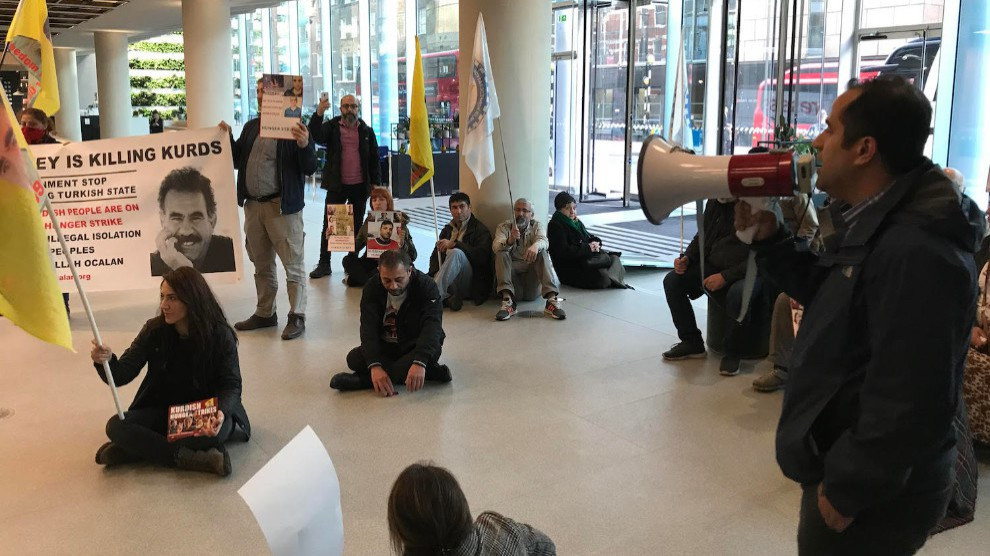 On Wednesday evening, a group of activists entered the building where British national networks like Itv, Itn and Channel 4 have offices and announced that they won't leave until they get a meeting with network officials.
The protest by the Kurdish Popular Assembly and Migrant Workers Cultural Association condemned the silence of the British national press.
Large numbers of police officers entered the building as the protest continued. In talks with the police, the activists said they won't leave the building until they meet with a news director.
The protesting group was not aware that the TRT World network had a studio in the same building, but Turkish media like TRT, Milliyet and Hurriyet alleged that the action was against TRT World. TRT News, one of the AKP regime's mouthpieces, held two live broadcasts from the site and announced the protest as an attack against them.
Meanwhile, the hunger strike launched on Wednesday in the London offices of Amnesty International protesting the isolation imposed upon Kurdish People's Leader Abdullah Ocalan continues. Hundreds of people visited the hunger strikers in the evening, and the activists announced that they won't end their protest until Amnesty International issues a statement.
Talks with Amnesty International officials continue as does the protest outside the offices.