Campaign to boycott tourism in Turkey
One of the main sources of income of the Turkish regime is tourism. With the invasion of Afrin and the civilian massacres, another boycott tourism campaign has been launched on social networks.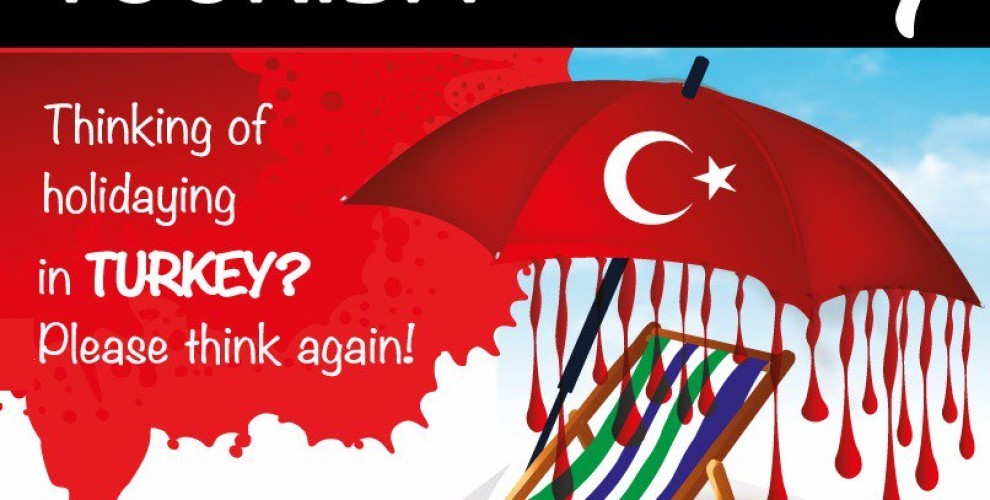 Calls for tourism boycotts in Turkey are spreading in social networks. The campaign runs on Twitter using the #BoycottTurkey hashtag. Ads labeled "No to dictatorship and war!" And "Stop Erdoğan" are intended to make potential tourists for Turkey to rethink of their holiday in the country. Some postings say, "Before you buy a ticket to Turkey, do not forget that the money will be spent on war."
Tourism is an important source of income for the Turkish state. In recent years, the sector has suffered a lot, mainly due to the crisis with Russia. However, the following agreement between both countries has now enabled the occupation of Afrin and in the tourism sector, this rapprochement will have its consequences.
Under the silence of Western governments, hundreds of civilians have been murdered in Afrin and their civilian infrastructure has been systematically destroyed. The houses and workplaces as well as the institutions of Afrin have been looted. Hundreds of thousands of people had to flee. These attacks are considered ethnic cleansing.
While the Turkish state is massacring and waging war, Turkey expects tens of millions of tourists this year. According to the Ministry of Culture and Tourism, three million foreign tourists visited Turkey in the first two months, an increase of 35 percent. Most visitors in January and February came from Iran after the "Astana Agreement".
Recently, the umbrella organization of the Kurdish freedom movement, KCK, called for a boycott of Turkish goods and tourism in Turkey to deal a blow against the economy of Turkey, which is the engine of the war against the Kurds.