Call to join today's hashtag campaign 'Freedom Will Prevail'
The "hashtag" campaign begins tonight and will be launched by the Kurdistan Digital Media Assembly.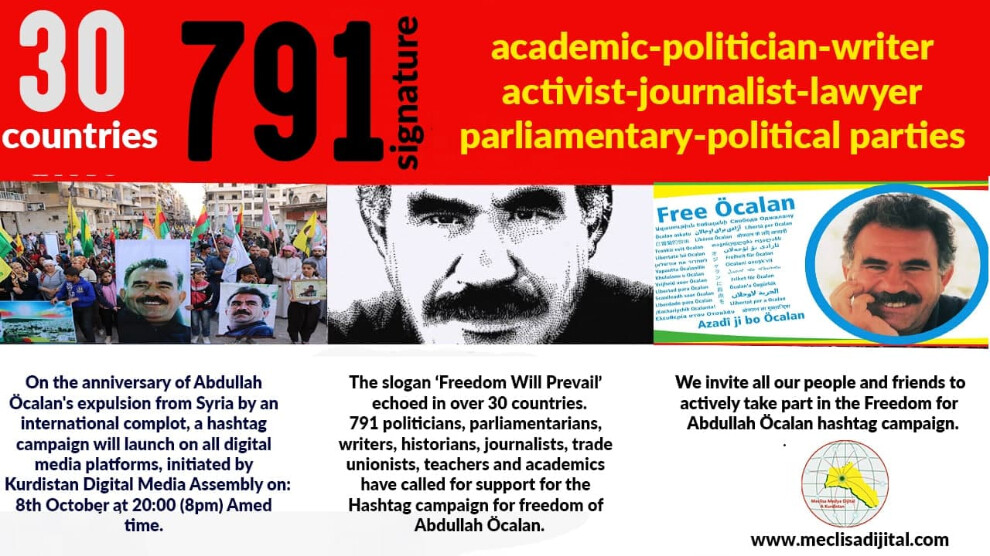 The Kurdistan Digital Media Assembly is launching a campaign with the hashtag "Freedom Will Prevail" on all digital media platforms today at 19:00 Brussels time and 20:00 Amed time.
The campaign condemns once again the anniversary of the expulsion of Kurdish People's Leader Abdullah Öcalan from Syria, the result of an international conspiracy, on 9 October .
The campaign demands the freedom of Kurdish people's leader Abdullah Öcalan so that he can play his role in solving the Kurdish problem and ensuring social peace.
The campaign will start tonight, 8 October, with a Twitter storm that will continue on 9 and 10 October as well, before being carried out with different other events throughout the month of October. 
Hundreds of people, activists, politicians, artists from all over the world have sent messages of solidarity and support for the campaign. So far, 19 messages have come from Russia, 18 from Germany, 29 from Australia, 37 from Italy-Brazil and South American countries, 24 from North Africa, 24 from Middle East countries, 84 from North and East Syria, 169 from South Kurdistan, 66 from East Kurdistan, 8 from the UK, 7 from Norway, 5 from the US, 4 from Sweden, 6 from Greece, 87 from journalists, 23 from women, 24 from former deputies, 25 from former co-mayors, 21 from political party leaders, 4 from women's councils, 26 from party provincial co-chairs, 3 from DTK council members, 4 from party VQA members, 9 from former provincial council members, 18 from representatives of non-governmental organizations, 3 from academics, 13 from political parties, 13 from artists.
All messages and videos are posted at @MeclisaDijital