Call for resistance against Turkey's plan to invade Rojava
The Turkish state ruled by the AKP-MHP coalition has openly announced its plan to invade the Rojava region. HDP, SYPG-JKŞ-CKŞ, TJA and ESP called for resistance against the invasion plan.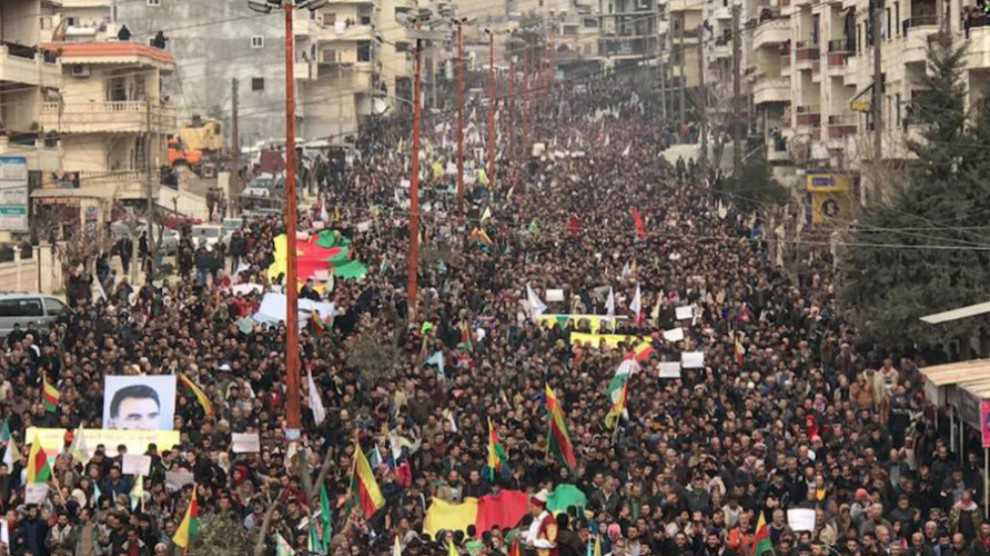 Peoples' Democratic Party (HDP), Free Women's Movement (TJA), Socialist Party of the Oppressed (ESP) and SYPG-JKŞ-CKŞ released statements in response to the Turkish state's threats of invasion against Rojava.
Free Women's Movement (TJA) stated that an imminent military operation against Northeast Syria by the AKP-MHP coalition, which remains standing with war and repression, is an effort to bring itself into existence over attacks against Kurdish achievements and to cover its collapsing domestic policies with fascism and militarism.
TJA called upon all circles of society to stand against the AKP-MHP government's policies for deepening the conflict.
Peoples' Democratic Party (HDP) Central Executive Board stressed that the AKP-MHP government putting a new military aggression against North and East Syria on the agenda was an extremely dangerous and wrong step.
HDP warned that the destruction to be caused by an intervention of this kind and population engineering would be categorized as a crime against humanity before international law.
The party pointed out that in addition to the Kurds, Arabs, Turkmens, Syriacs, Armenians and Yazidis in the region were also under a great threat.
HDP called on the forces of peace and democracy in Turkey to take an effective and determined stance against the AKP-MHP alliance that is trying to consolidate its destabilized rule;  "Such a military intervention means more repression on the society in Turkey, more financial burdens, poverty, a deepening crisis, widespread lawlessness and the lack of democracy. With this likely intervention, Turkey is being dragged into a dangerous and deep trap, an adventure with no boundaries. We can stop this together."
The Socialist Party of the Oppressed (ESP) warned against "fascist Turkish state threat of invasion against the Rojava Revolution that gained its right to existence with a battle based on self defense against ISIS mercenaries, the reactionary states in the region and imperialist forces".
ESP called on Turkish workers and laborers to reclaim their honor and to oppose the colonial war.
"Rojava Revolution is the revolution of workers, women, youth and the oppressed peoples. Rojava Revolution is our revolution. Let's defend it against the fascist colonialist state and its mercenaries. Let's be the voice of Rojava peoples everywhere we are. Let's raise the struggle against occupant colonialism on the streets."
SYPG-JKŞ-CKŞ pointed out that this operation cannot be considered or started independently from international imperialist alliance relationships.
The statement by SYPG-JKŞ-CKŞ said; "It is not really surprising that the US which was in a tactical alliance with SDF at first, now approves the Turkish state's occupation campaign against North and East Syria. The US, which acts in line with its own international military and economic interests, connives at the massacre of the region's peoples by Turkish invasion today, an act that actually corresponds its essence.
They are afraid because Rojava Revolution is the door to the freedom of all peoples. Alongside the self defense forces and mechanisms of the people, we will be resisting the occupation operations of the Turkish state, colonial regional states and international imperialist forces to the last drop of blood. To keep silent is to be a party to this crime. All streets should be turned into areas of resistance against invasion."