Bonfire violence in the North of Ireland
The bonfires are light to commemorate a Protestant victory over Catholics in 1690.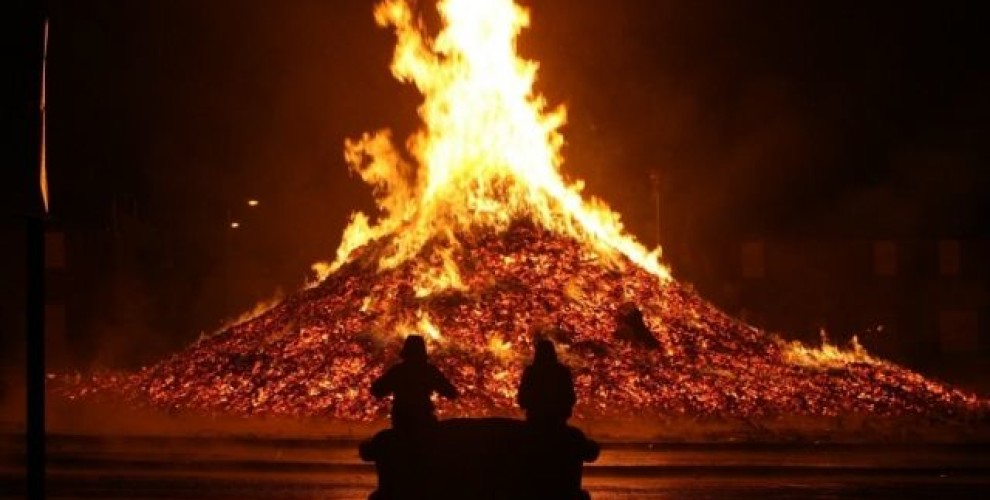 The North of Ireland saw some of the worse violence in recent years as unionist paramilitaries hit back at a first step by authorities against their towering and toxic 'Eleventh Night' bonfires.
A number of vehicles were hijacked and burnt out and a bomb was thrown into the nationalist Short Strand, narrowly missing a young family.
Other bomb alerts prompted the closure of main roads, with one incident closing the route out of Belfast City Airport.
Masked men also used burning cars to block roads close to the Ulster Hospital in Dundonald on the outskirts of Belfast, while a bus with passengers on board was hijacked before being set alight in nearby Newtownards.
The PSNI police said it was aware the UVF were planning to "orchestrate and participate in serious disorder" in east Belfast.
As part of the Peace Agreement, for over a decade loyalist paramilitaries have received peace funds and government grants connected to their bonfires, with the support of both Sinn Fein and the DUP.
The funds were intended to convince the paramilitaries to develop their bonfires into cultural events and 'family fun' events, without success.
The Twelfth is a Protestant celebration held on 12 July. It originated during the late 18th century and it celebrates the so called Glorious Revolution (1688) and victory of Protestant king William of Orange over Catholic king James II at the Battle of the Boyne (1690).