Bayındır: "The key to a solution lies in Imrali"
Millions of people made it clear during the Newroz celebrations that they consider Abdullah Öcalan as their leader. DBP co-chair Keskin Bayındır states that the key to a solution to the Kurdish question lies in Imrali.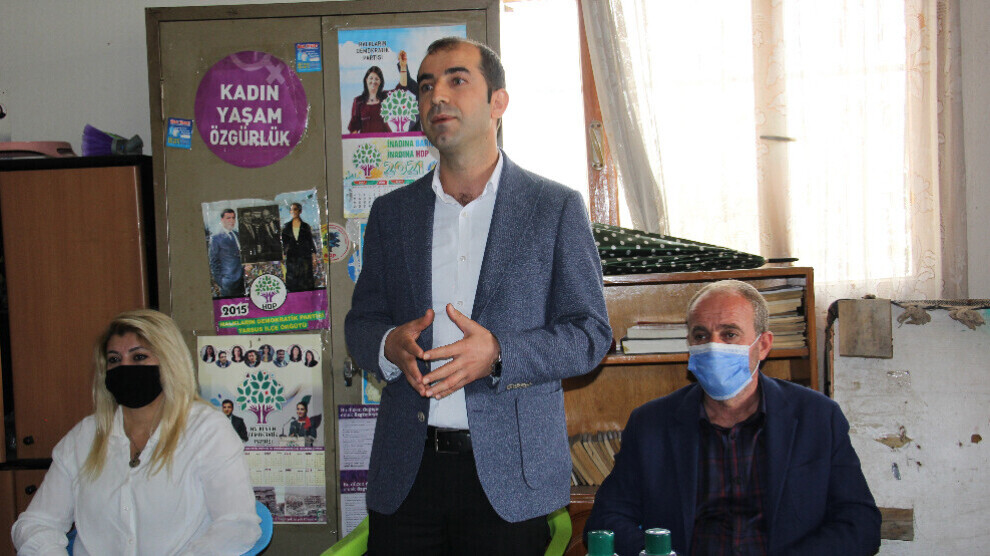 The HDP has been holding events and visits in the Mediterranean province of Mersin for four days. Under the slogan "Let's organize against fascism", talks and discussions are taking place with the party base. The delegation, which includes Saliha Aydeniz and Keskin Bayındır, the co-chairs of the sister party DBP, was divided into two groups in Tarsus today.
In this context, Keskin Bayındır attended a meeting at the HDP representative office and gave a speech about the current political developments. The DBP co-chair stated that the AKP/MHP government wants to install a system to annihilate the Kurds. Regarding the isolation of Abdullah Öcalan, he said, "Isolation always means war against the Kurdish people. The war policy is being implemented on Imrali."
Bayındır recalled the interrupted phone conversation Öcalan had with his brother recently and said, "Millions of people made it clear once again during the Newroz celebrations that they consider Öcalan their leader. The Kurdish people are fighting against oppression and will not bow down. What the people want to achieve with their struggle is a solution to the Kurdish question. For a dignified peace, they point to Imrali as the place of solution. The key to a solution lies on Imrali. The government responds to the demand for peace with war. It is attacking all the institutions and values of the Kurdish people."
This must be resisted, the Kurdish politician continued: "If we do not intensify our struggle, the extermination attacks against our people will become even more intense. Therefore, we must fight even more, we must determine our own future. We must organize ourselves even better against fascism and the one-man regime. Only through struggle can we avert the dangers."
Commenting on the banning of the HDP, Bayındır said, "The Kurdish people are wanted to be destroyed through the policies conducted in Turkey, their will is not recognized. Our municipalities have been put under trustee administration and now the HDP is to be closed. The government wants to destroy the representation of the Kurdish people everywhere, but despite this dirty policy, it has not been possible to force the Kurdish people to surrender in the past years. Whatever is done, the Kurdish people exist, their political struggle cannot be stopped. Like other governments before it, this government will disappear from the scene. It will disappear as a result of the people's struggle."