"Another gift from Germany to autocrat Erdoğan"
DIE LINKE North Rhine-Westphalia protested against the raid on Mesopotamia Publishing House and MIR Multimedia Company and demanded the return of confiscated objects.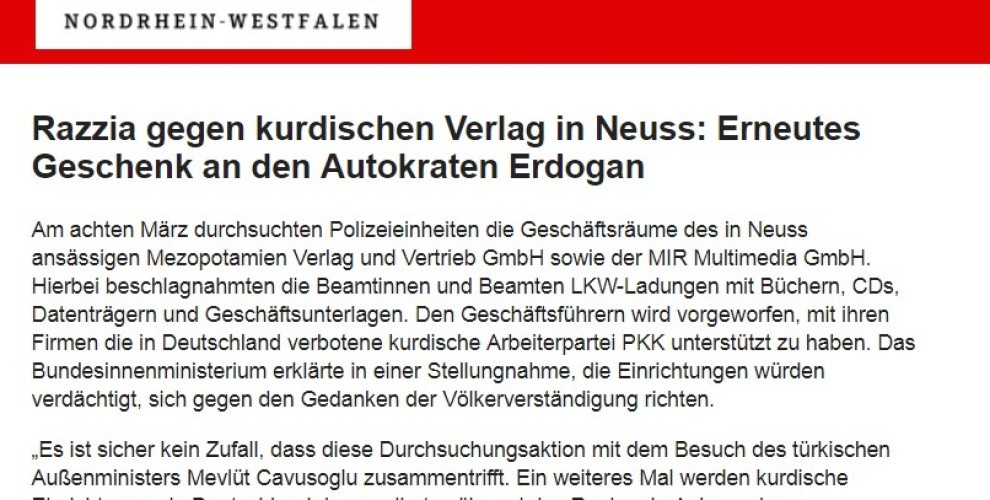 On March 8, police units raided the business premises of the Neuss-based Mesopotamia Publishing House and MIR Multimedia Company. Police officers confiscated truckloads of books, CDs, data carriers and business documents. The directors are accused of supporting the Kurdistan Workers' Party PKK banned in Germany with their companies. The Federal Ministry of the Interior said in a statement that the institutions were suspected of acting against the ​​international understanding.
DIE LINKE North Rhine-Westphalia released a written statement on the raids on Kurdish institutions.
"It is no coincidence that this search operation coincides with the visit of Turkish Foreign Minister Mevlüt Cavuşoğlu. Once again, Kurdish institutions in Germany are being harassed while the Ankara regime is issuing a free ticket from Berlin," said Özlem Alev Demirel, NRW state spokeswoman for DIE LINKE.
Christian Leye, country representative of the DIE LINKE party, said; "It is cynical to claim that the criminalized institutions directed against the international understanding through books and music CDs, while the Turkish army, in violation of international law, attacks the Kurdish region of Afrin in northern Syria in conjunction with jihadist mercenary gangs. This happens, mind you, among other things with German tanks. THE LEFT NRW protests against the searches and demands the return of the confiscated objects."