AKP-MHP alliance's panic for 2019: Bahçeli admits
Devlet Bahçeli, chair of racist MHP which is in an alliance with the governing AKP, admitted that it will be difficult for them to hold on until 2019 and demanded the elections be moved.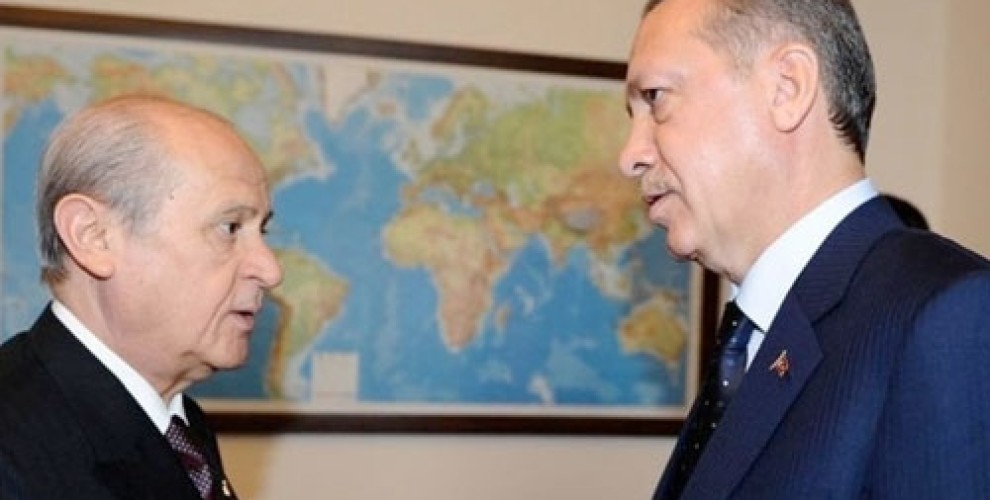 Racist MHP's leader Devlet Bahçeli called for the presidential and parliamentary elections to be moved to August 26, 2018.
Bahçeli spoke in his party's parliamentary group meeting and stated that Turkey has a survival issue and argued:
"The Presidential governance system hasn't fully been implemented yet. It is not easy for Turkey to hold on until November 3, 2019. It is not possible to wait for November 3, 2019. It is getting harder by the minute to reach November 3, 2019. Our party is part of the Popular Alliance except for local elections. For Turkey's survival, the protection of the Popular Alliance is vital."
Bahçeli stated that it is getting harder to reach stability and balance under current circumstances, and said the following while failing to clearly express his concerns: "Under today's circumstances where the country is smothered under discussions about the system, it is getting harder to reach November 3 with stability and balance. Our main goal is to cut off this risk at the source. We have two elections coming. Either we will wait for the normal date, or the elections will be moved closer due to national obligation. It should be known that, after necessary adjustment laws are passed, the MHP will be arguing for moving the elections.
ELECTIONS, UNDER WHICH CONDITIONS?
Since the alliance between Turkish President Recep Tayyip Erdoğan and Bahçeli was founded, Turkey has entered an era of unprecedented fascist oppression. The period characterized by dictatorship and fascism saw an increase in massacres and invasions, all opposition voices in the country were targeted, and the prison population rose to 230.000 by the end of 2017 from 60.000 in 2002. Hundreds of newspapers, journals and NGOs were shut down. Thousands of intellectuals, journalists, politicians, artists and NGO representatives are currently imprisoned. Kurdish municipalities have been usurped and co-mayors imprisoned. Invasion attacks have expanded to new records, in Afrin in particular. Racism, nationalism and polarization has peaked and justice and the media are under government control. Under such conditions, there is no expectation of just elections.