Ahmet Türk: Kurds have always fought for peace and democracy
HDP Mardin Metropolitan Municipality co-mayor candidate, Ahmet Turk, said that he was expecting a similar result to the one achieved on the 7 June 2015 elections.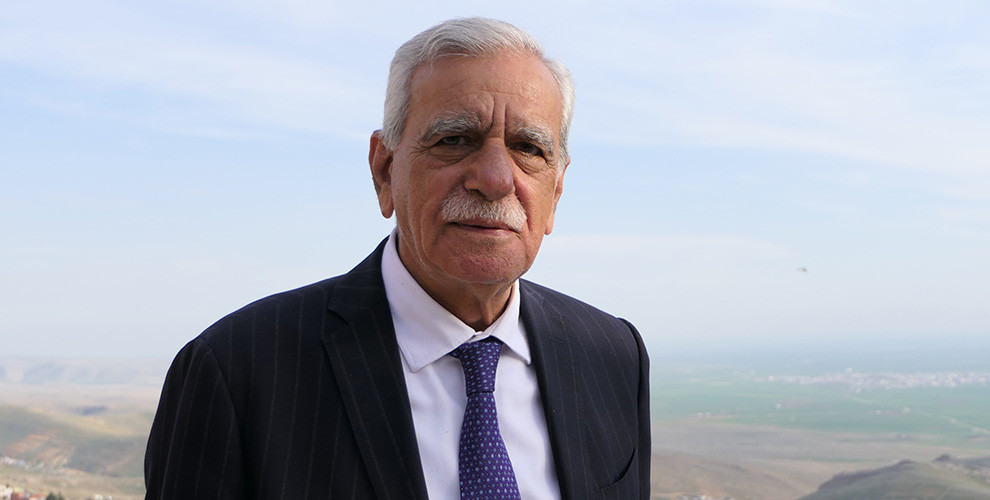 The Peoples' Democratic Party (HDP) which is contesting the local elections with the slogan 'We are coming to take what is ours', is working around the clock in Mardin and its districts.
Despite the pressure, threats, detention and arrests, the HDP election workers have been canvassing all day long to present the party's candidates and manifesto.
The HDP co-mayor candidate in the multi-ethnic city of Mardin is Ahmet Türk, an experienced Kurdish politician.
Türk, the legitimate co-mayor of the metropolitan municipality, was replaced by a State-appointed trustee and was jailed for a time in Elazığ and Silivri prisons. He was again nominated as co-mayor candidate of the usurped municipality.
ANF talked to Türk about Mardin and the electoral manifesto proposed by the HDP. Türk said that after so many years in politics he can say by looking at people's eyes what they think and added that until now people has voted for the parties that struggled for democracy and freedom.
There is an environment of fear
Although the Kurdish people have to pay great prices and suffer great pressure during the elections, Türk said that the people cast their vote for the parties that stand for democracy.
"It is possible - he said - to say that there is a silence due to repression. The trustees have created an environment of fear around people. When we go to the villages they say to us 'You don't need to come, we are watching everything on television, we see how the war and hostile attitude is carried out against Kurds'. From time to time, we see that soldiers in the villages we are going to put pressure on the people of the village. Sometimes soldiers go to these villages before us to threaten people."
Similar result to the 7 June 2015 elections
The Kurdish people are well aware of the politics of the AKP-MHP bloc, said Türk, adding: "The Kurdish people stand for democracy and freedom. For years, this people have paid a great price, and despite all the pressures, it always demonstrated its strength. The same applies today. I believe that we will get a similar result to the 7 June 2015 elections. As I said, there is a silence, but there is also a strong determination. Our people are politicized people. They are watching everything very closely. Maybe they don't speak Turkish much but they are really watching what people are saying and what kind of politics is being carried out. Which is why, I believe that our results will contribute to democracy. Our people will have their own party and democracy."
Municipalities in debt
Talking about the investment and sanctions of the trustee, Türk said that they knew their jobs were very difficult because the municipality they are going to reclaim has a huge debt. The people saw that there was no investment in return for the money spent, said Türk, adding that "we will make things straight once we reclaim the municipality."
Municipalities are at the service of people
Recalling that the municipalities are elected by people to meet their needs and demands, Türk added: "The people see the difference in work. We are a public municipality; we are in favour of a municipality where people can go and solve problems, discuss with us and make suggestions. We are integrating with our people. We are comfortable with the people. They [the AKP] are conducting elections with bodyguards and policemen in villages and cities."
Our perspective is democracy
Türk said: "For many years, we made great efforts and paid great prices. Our people have always expressed the demand for democracy and freedom. If you marginalize the cultural richness and identity of the different peoples, or if you forbid them, people could lose their hope but this is not the case with our people. They keep struggling for freedom and democracy with the same determination."
Who is Ahmet Türk
Born in 1942 in Mardin, Türk is a high school graduate. In 1973 he was elected Mardin MP for the Democratic Party. Türk then resigned from here and joined the CHP. He continued his political life here until 1980. During the 12 September coup, he was arrested and was subjected to heavy torture. In 1987, he joined the SHP and was elected an MP. He was expelled from the SHP for participating in a Kurdish conference in Paris in 1989. In 1990 he was among the founders of the People's Labor Party (HEP). He then continued working in HEP followers HADEP and DEHAP.
He was one of the founders of the Democratic Society Party (DTP), and co-chaired it with Aysel Tuğluk, before its closure in 2009.
Türk was elected as Independent MP for Mardin in the 2007 General Elections. In 2014, he was elected as co-mayor of Mardin Metropolitan Municipality from the Peace and Democracy Party (BDP).
A lawsuit has been filed against Türk in January 2016 for 'being a member of an armed organization, making propaganda for an armed organization and violating the Law on Meetings and Demonstrations'. The prosecutor asked up to 18 years imprisonment.
On 17 November 2016, the Turkish Ministry of Interior dismissed Mardin co-mayor Türk and replaced him with a trustee. Türk was detained on 24 November 2016 and referred to Court. He was arrested and sent to Silivri Prison in Istanbul. On 3 February 2017, Türk was released due to health problems and elected again as co-mayor for the 31 March elections.