Activists from Mainz take over Freedom for Öcalan Vigil on week 483
The Freedom for Öcalan Vigil, was taken over this week, the 483rd, by a group of activists from the city of Mainz.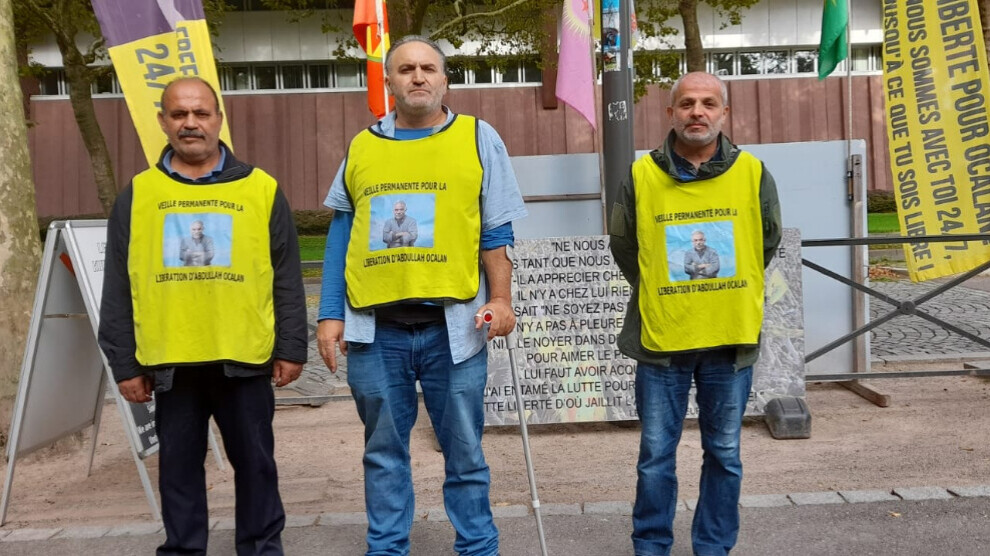 The Freedom for Öcalan Vigil, carried out in Strasbourg since June 2012 demanding the physical freedom of Kurdish people's leader Abdullah Öcalan and the lifting of isolation, has entered its 483rd week.
The vigil this week was taken over by the group from Mainz. The group includes Hanifi Karayazı, Azad Malatya and Mehmet Dersim.
Speaking on behalf of the group, Hanifi Karayazı said that they respectfully commemorate PKK Martyrs' Families Committee member Yasin Bulut (Şükrü Serhat), who was murdered by the invading Turkish state in the city of Sulaymaniyah in South Kurdistan, and saluted the guerrilla who is resisting the occupation and genocide policies of the Turkish state.
Hanifi Karayazı said: "The massacre against our people and our leaders and the occupation of our land are carried out in parallel with the isolation imposed on Öcalan." He added that no Kurd would accept the silence of European countries against this massacre and occupation.
Stating that he has been on the vigil for the third time, Hanifi Karayazı added that this action has exposed the hypocritical mask of Europe's democracy and human rights discourse. Resistance, he said, will liberate the Kurdish people.
Underlining that the freedom of the Kurdish people will be achieved with the freedom of Öcalan, Karayazı emphasized that the key for the solution to the Kurdish problem is in Imralı.
Karayazı said: "Since the International Conspiracy, our Leadership has been displaying a great resistance against capitalist modernity in Imralı," and added that the Kurdish people should come together everywhere and carry this resistance to victory.