Activists drop huge banner on Westminister Bridge in London
British anti-ISIS fighters and Kurdish activists drop huge banner on Westminster Bridge and accuse Theresa May of welcoming a war criminal and ISIS supporter to Downing Street.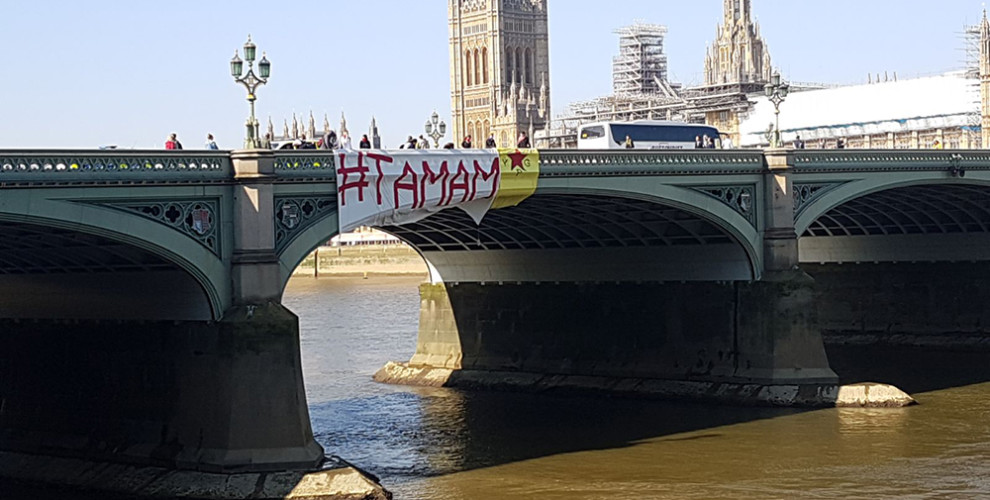 Early this morning a group of British YPG volunteers and Kurdish activists dropped banners across Westminster Bridge to protest the state visit of Turkish tyrant Recep Tayyip Erdogan. Alongside a YPG banner was a banner reading '#TAMAM', citing the hashtag which trended number 1 worldwide last Tuesday with over 2 million tweets after Erdogan promised to step aside if the people said "Enough!" ("Tamam!").
The YPG – the Kurdish People's Protection Units responsible for the liberation of Kurdish parts of northern Syria from the scourge of ISIS – were targeted during Turkey's recent illegal invasion and occupation of Afrin, leaving hundreds of thousands of people displaced including Kurds and Yazidis who had fled the death and rape cult of ISIS in Sinjar and Kobane. In the process of this invasion, Turkish warplanes killed Anna Campbell, a British citizen who had volunteered with the Women's Protection Units (YPJ) to help defeat ISIS in northern Syria. The UK government which recently agreed multi-million pound weapons sales to Turkey has refused the plea from Anna Campbell's family to call on Turkey to allow her body to be returned home.
Alexander Norton, a former YPG volunteer from London, said: "This is an act of solidarity with the YPG, including those from across the world who bravely took up the call to join the fight against ISIS only to be targeted and killed by Turkey, a UK ally and NATO power – Anna Campbell from Sussex and Michael Israel from the USA to name but two. But we also want to send a message to the butcher of Ankara. We join the "TAMAM" call – enough is enough, Erdogan should not be allowed to set foot in this country without being faced by the huge opposition to his genocidal, terrorist-backing regime. As British YPG volunteers who faced ISIS on the frontline in battle, we are disgusted that our government is welcoming with a state visit the very man who has aided and abetted ISIS fascism in Syria."
The Kurdistan Solidarity Campaign and Kurdish organisations have organised a protest outside Downing Street all day with a rally at 1pm with speakers including Owen Jones, Lloyd Russell-Moyle MP, Mark Thomas.
Source: Kurdistan Solidarity Campaign