Activists at UN Vigil condemn Turkish attacks on Kurdistan
Since the beginning of 2021, activists have protested the Turkish attacks on Rojava and other parts of Kurdistan with a vigil in Geneva, in front of the UN headquarters.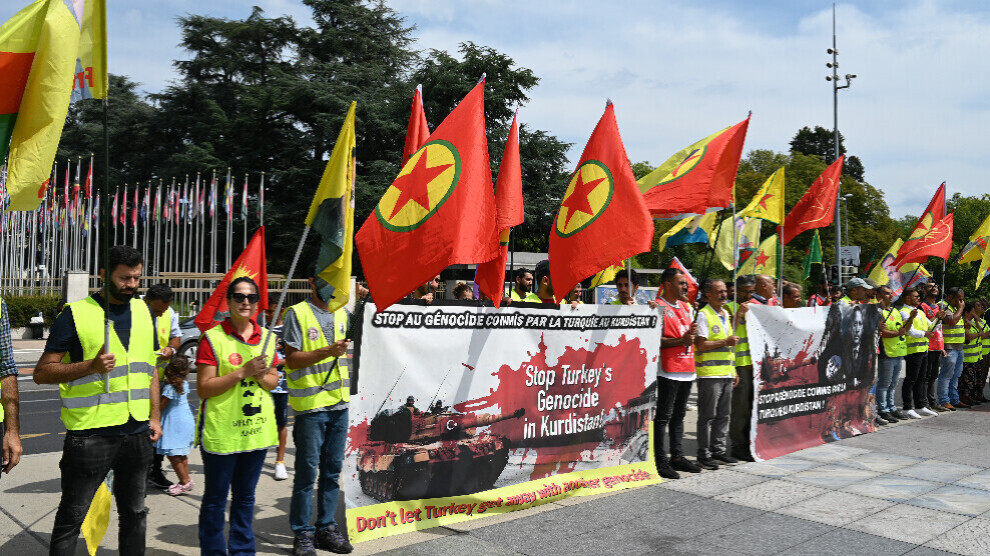 A vigil by the Democratic Kurdish Community in Switzerland has been taking place in front of the UN headquarters in Geneva since the beginning of 2021. Every Wednesday, activists march in front of the United Nations building to demand the release of Kurdish people's leader Abdullah Öcalan. This week the focus of the protest event was on the occupation attacks in Kurdistan carried out by Turkey with the support of some world powers.
The vigil began with a minute's silence in memory of the fallen in Kurdistan. Then Erdal Atasoy, co-chair of the Kurdish Society Center in Geneva, said that the Turkish state is trying to eliminate the Kurdish liberation movement with the support of international forces.

Atasoy said: "Everyone must take responsibility in this situation. With the attacks on the guerrilla areas in South Kurdistan and on the Autonomous Administration region of Rojava, the Kurdish liberation struggle is to be eliminated. The guerrillas put up strong resistance to the campaign of annihilation supported by NATO and international powers. We must show solidarity with this resistance. We are aware that the Kurdish people can only trust in their own strength. We have to trust in ourselves and make this attack fail. With this in mind, we appeal to our people. We should not forget that if we do not fulfil our role now, our dream of freedom will be postponed for another hundred years. We have to prevent that."