Actions in Toronto and Marseille against Turkish invasion attacks
Kurds got together in Toronto to protest the invading attacks carried out by the Turkish state against South Kurdistan. In Marseille, young people presented a file to the newspaper La Provence against the occupation.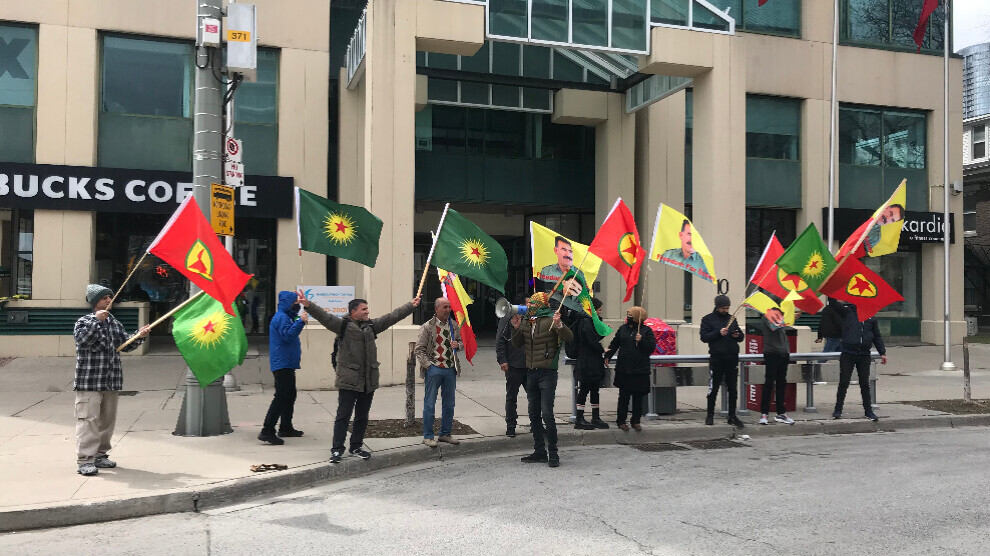 Kurds got together at the call of the Democratic Kurdish Community Assembly in Toronto. They protested in front of the Turkish Consulate about the invasion attacks carried out against South Kurdistan.
During the action, slogans were chanted such as, "Freedom for Öcalan", "Bijî berxwedana guerrilla", "Rojava is not alone", "Freedom for Kurdistan", "Resisting we will win", "PKK is the people, the people are here".
A press release was read in English and Turkish. "Erdogan's aggressive and invading face has shown itself once again in Kurdistan. The policy of denial and war against the Kurdish people is the basic principle of the Turkish state and Erdogan. We condemn these attacks and demand the withdrawal of Turkey's soldiers from South Kurdistan."
File to La Provence newspaper
Members of Tevgera Ciwanên Şoreşger (TCŞ) and Jinên Ciwan ên Têkoşer (TekoJIN) in Marseille, visited La Provence newspaper building and presented a file about the Turkish state invasion attacks and demanding the withdrawal of the Turkish soldiers.
Entering the La Provence building with the "End the occupation" banners in their hands, the young people had a meeting with the journalists.