8 detained as Istanbul police attack HDP protest against isolation
Police attacked the press briefing organized by HDP Istanbul Provincial Organization in Kadıköy district to raise a voice for the hunger strikes in prisons against the isolation of Abdullah Öcalan. 8 activists were detained.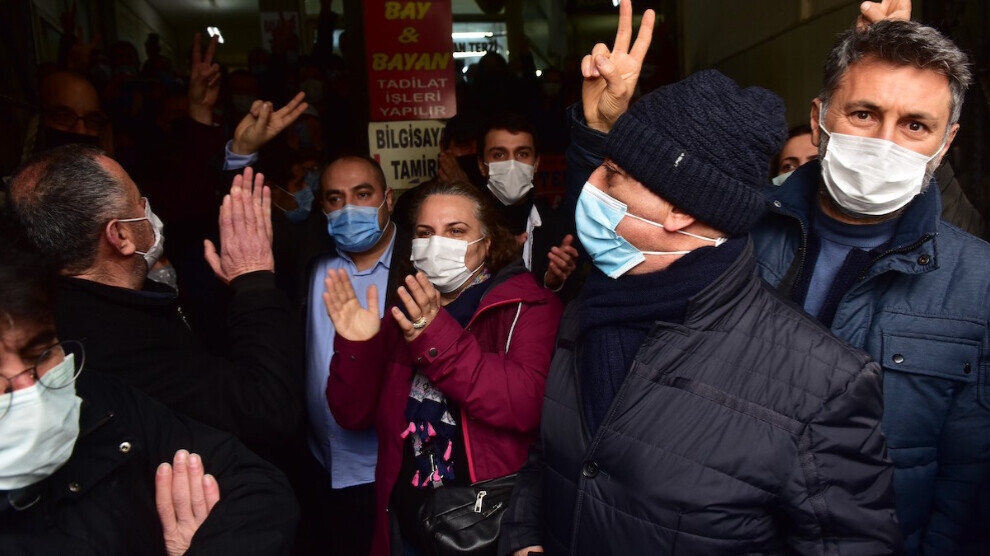 In the run-up to a rally planned in Istanbul's Kadiköy district to mark the hunger strike of political prisoners against Kurdish leader Abdullah Öcalan's isolation and inhumane prison conditions, the police have sealed off the building of the HDP district association. 
The demonstrators, who include members of parliament Züleyha Gülüm and Musa Piroğlu, the co-chairs of the Istanbul HDP associations, activists from the women's movement TJA and members of the prisoners' aid association MATUHAY-DER, were prevented from leaving the HDP building.
The crowd protested the arbitrary blockade chanting the slogans "Repression will not intimidate us", "Bijî Serok Apo" [Long live leader Öcalan] and "Thousand greetings to Imrali". The police attacked the crowd after announcing an imminent intervention against the slogans. During the police crackdown, many people ended up in danger of being crushed.
IMRALI ISOLATION GIVES WAY TO BLOCKADE IN THE ENTIRE COUNTRY!
Meanwhile 8 people were subjected to police violence and detained during a sit-in action to protest the blockade in the event area.
HDP deputy Musa Piroğlu, who made a statement under the blockade, said, "This blockade and state terror once again showed that isolation is the main problem of this country. Once again it showed that the isolation policy in İmralı is returning to this country as a police blockade."
THE DAYS YOU WILL MEET WITH THE WILL OF THE PEOPLE ARE CLOSE
Emphasizing that the state's fear of the rights and democracy has been revealed once again, Piroğlu said: "There is no chance for democracy to flourish in this country without solving the Kurdish problem. There is no chance of achieving labor rights if the Kurdish problem remains unsolved. This blockade was seen before when students protested pro-gov't rector at Boğaziçi University, when workers sought their labor rights and when women objected to male violence. Once again it has become clear that this country has only one solution to the problems; we have to remove the root of this blockade. The root of this blockade is the government itself, and those who ordered and laid this blockade today should know that the days when they will meet the will of the people's power are close. The blockade will end and only then will the seeds of freedom and democracy be planted in the country's land."
After the speech, the police attempted to attack the crowd as they chanted "Bijî Serok Apo. The tensions ended after the mediation of HDP Istanbul Provincial Co-chair Erdal Avcı.