5th hearing of Kobanê Trial begins in Ankara
The 5th hearing of the Kobanê Trial has started in Sincan, Ankara.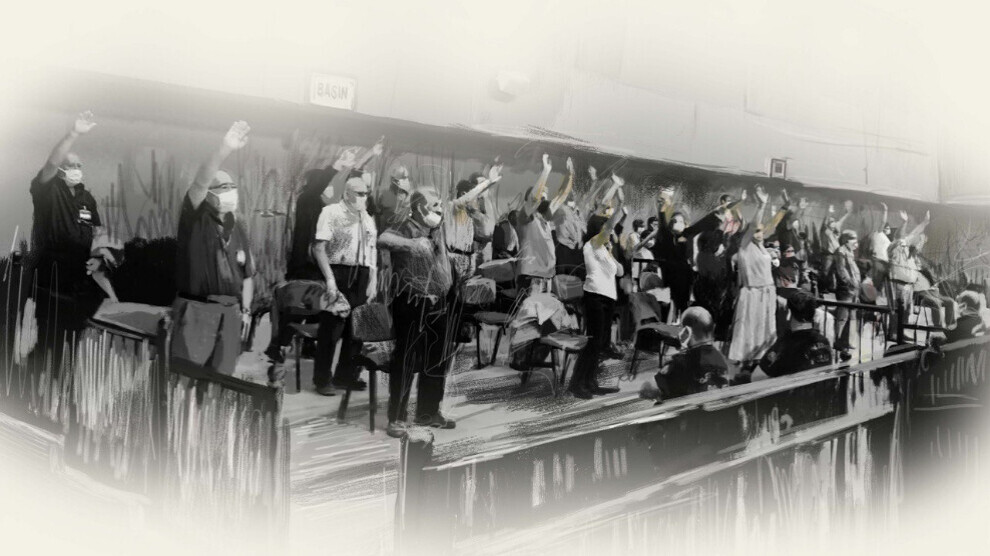 The 5th hearing of the Kobanê Trial plotted by the AKP-MHP government is being held at the Sincan Prison Campus in Ankara.
Peoples' Democratic Party (HDP) deputy co-chair of the Law and Human Rights Commission Ümit Dede, HDP deputies Mahmut Toğrul, Züleyha Gülüm, Serpil Kemalbay, Habip Eksik, Hişyar Özsoy, Kemal Pekgöz, İmam Taşçıer, Sait Dede, Gülistan Kılıç Koçyiğit, Tülay Hatimoğulları, Ali Kenanoğlu and lawyers as well as numerous HDP members and administrators from Istanbul and Ankara are monitoring the hearing held at the Ankara 22nd High Criminal Court.
While politicians held in Sincan prison attended the hearing in person, those jailed in different prisons attended via sound and video information system (SEGBİS). Former co-mayor of Kars, Ayhan Bilgen, who was dismissed by the government and released pending trial, is also attending the hearing.
The president of the court is not present since he was on the sick list. A temporary board is presiding over the hearing.
The president of the court read out the merged files of former co-mayor of Amed (diyarbakır), Gültan Kışanak and former co-chair of the Democratic Regions Party (DBP) Sebahat Tuncel. The court said that Aynur Aşan, a female activist for whom an arrest warrant was issued in a previous hearing, was arrested as part of the file. The number of detainees has thus risen to 21.
Aşan, who attended the hearing with SEGBİS from the prison where she is held hostage, gave her speech in Kurdish. She said that the indictment was not submitted to her and requested additional time for defence.
Speaking in Kurdish, HDP former central executive committee member Meryem Adıbelli said, "I will not submit my defence this week as the president of the court is absent."
The lawyers will meet their clients during the next pause and make their decisions on whether they will give a defence or not.