36 years in prison for Kurdish children trapped in Sur
Children trapped in Sur where genocidal attacks continued for 104 days have been sentenced to a cumulative of 36 years in prison. Pieces of shrapnel removed from the children's bodies were listed as "evidence".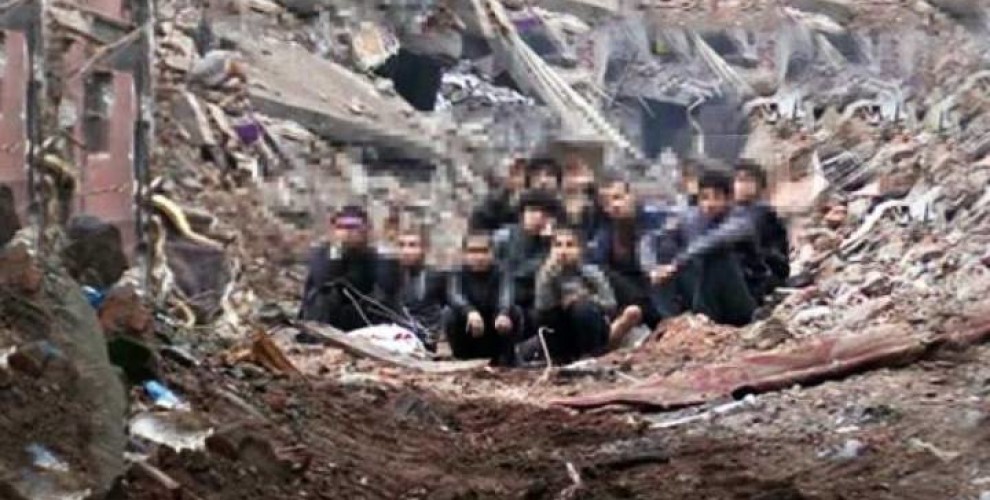 The lawsuit filed against 11 children, 3 of them in pretrial detention, accusing them of "membership to a terrorist organization" has concluded. The children had been trapped during the genocidal attacks following the "curfew" declared on November 28, 2015 in Amed's Sur district by the Turkish state and were rescued through the "life corridor" on March 3, 2016. The case was heard in Diyarbakır High Criminal Court for Minors, where arrestees Ö.S. and M.Ç. were present and F.Y. in Elazığ Type E Prison attended over the videoconferencing system SEGBİS. The prosecutor had asked for the arrested children's release in the first hearing, but then in later hearings he asked for continued arrest.
The lawyers stated that the identification procedure on their clients was unlawful, and that the children and witnesses testified under duress and torture. The lawyers pointed out that the children's battery and violence reports were present in the casefile. They stated that the gunshot and explosive residue found on the children's clothes like Antimon, HDX and RDX was mere contamination from the environment due to the clashes and demanded expert witnesses be appointed by the court to ascertain that.
The children gave their defense via Kurdish interpreters and said they were trapped in Sur due to the clashes and they were not guilty, and demanded their release.
The court refused the lawyers' appeal and announced the verdict. M.F.D., S.K., F.B., M.S.K and A.A., on trial without detention, received 2.5 years in prison each but the sentence was postponed, as the court took into consideration the facts that the children did not have criminal records and they were not likely to commit another crime. However, R.A., R.H. and Ş.A. accused of membership to a terrorist organization received 3 years and 4 months in prison each, and these sentences were not postponed. The court issued sentences of 4 years 5 months and 10 days in prison for the arrested children F.Y. and M.Ç., and 5 years 4 months for Ö.S.
The court issued a total of 36 years 8 months and 20 days in prison for the 11 children. There were no reductions in sentences due to the "negative behavior" expressed by the children in court, and the court ruled for the continuation of their arrest.
It also come to light that the children had been tortured by the police officers in detention. 16 year old F.Y. had been taken out of Sur wounded and was arrested following his operation, and the 5 pieces of shrapnel removed from his body were listed as evidence, as they had "traces of strong explosives HMX, RDX and TNT".