12-year-old put to the ground and handcuffed in Ankara
Police detained 17 people in Ankara during a protest against the appointment of trustees in 3 HDP-run municipalities. Among those detained was 12 years old B.A., who was handcuffed behind his back after being put on the ground.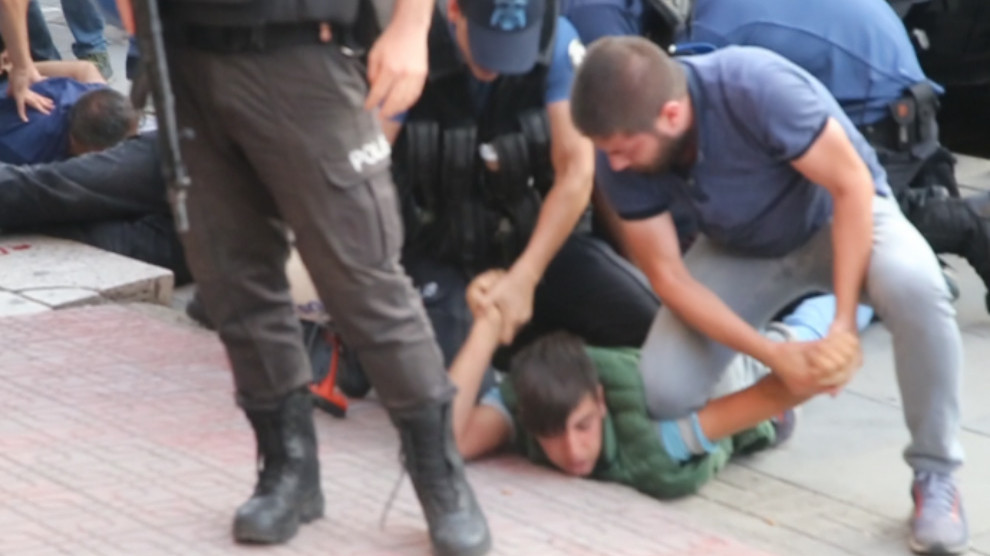 Police on Thursday attacked Mamak Platform members wanting to read a press statement to protest against the appointment of trustees to Amed, Mardin and Van metropolitan municipalities in Tuzluçayır Square, Ankara.
When the members of the Platform started a sit-in, the police attacked them. The police then grabbed a 12 years old boy, B.A., put him on the ground face down and handcuffed him with his hands behind his back. 
As well as B.A., 17 people were taken into custody. Those detained were taken to Tuzluçayır Police Station while the crowd shouted slogans against the police harassment.
The names of some of the people detained together with B.A are as follows: Ramazan Karakoc, Vizier Coskun Parlak, Deniz Akil, Orhan celebrity, Mustafa Akkaya, Aydin stars, Celal Erturk, Sibel Goktas, Zarife Camala, Yucel Yavuz and Dilan Karayel.