"100 Reasons to Prosecute Erdoğan" action in Hamburg
A rally was held in Hamburg as part of the "100 reasons to condemn the dictator" campaign on Valentine's Day, which Women Defend Rojava Germany has proclaimed a day of action against feminicide.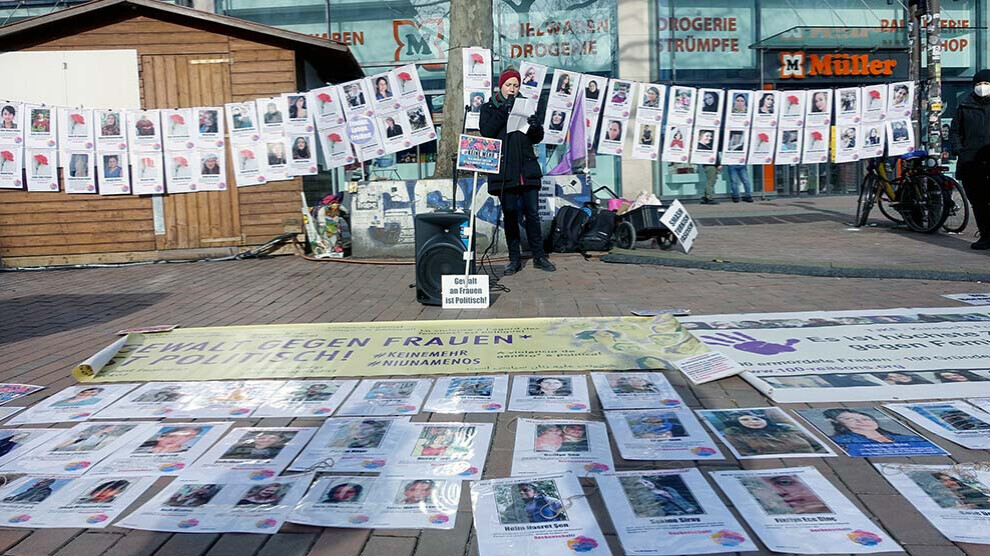 The call of Women Defend Rojava Germany for today's nationwide day of action of the campaign "100 reasons to prosecute the dictator" was supported in Hamburg by a rally at Altona train station, in which numerous people participated. The rally was promoted by Rojbin Kurdish Women's Council, Women Defend Rojava and the feminist campaign "Fighting Together".
The date for the day of action was not chosen by chance. February 14 is also known as Valentine's Day. "If we look at the global situation, there is little reason for us to celebrate such a day. In 2017, 238 women were killed every day worldwide. Half of them by a partner or relative. In Germany, a woman is murdered by her partner or ex-partner every third day. The pandemic has further increased violence against women and girls," read a speech by the Women Defend Rojava campaign.
Violence against women in Turkey dramatic
The aim of the rally was to draw attention to the contents of the campaign and to support it. The campaign advocates for the recognition of feminicide as a political act, calls for an end to patriarchal violence, and aims to hold those responsible for the misogynistic policies of the Turkish regime, above all Turkish President Recep Tayyip Erdoğan, accountable for the countless murders of women. An activist speaking here said, "Since Erdoğan has been in power, violence against women in Turkey has increased by more than a thousand percent. Rape is becoming increasingly normalized. Women are systematically excluded from the political sphere, imprisoned and tortured. Alongside this, women's academic, artistic and professional work is criminalized."
Images of Feminicide Victims
Every woman murdered by the Turkish state and its policies has a face, a story, a name. Each of them is a reason to prosecute Erdoğan and raise our voices. At the rally, the pictures of dozens of these women were hung up. Many passersby stopped to look at them and support the campaign by signing. Information material about the campaign and the current situation in the Kurdish regions was also available. In addition to speeches that were read out and songs that were played, the organizers of the rally collected signatures for the campaign.
100 reasons to prosecute the dictator
The campaign "100 reasons to prosecute the dictator" was initiated by the Kurdish Women's Movement in Europe (TJK-E) on November 25. The aim is to collect 100,000 signatures for a petition by International Women's Struggle Day on March 8. The women's movement demands that Turkish president Recep Tayyip Erdogan be brought to justice for his crimes. The petition can also be signed online.