YPG declares two regiments in Cizîre Canton
Establishment of two more regiments under the People's /Women's Defense Forces (YPG/YPJ) has been declared in Cizîre Canton of Rojava, West Kurdistan.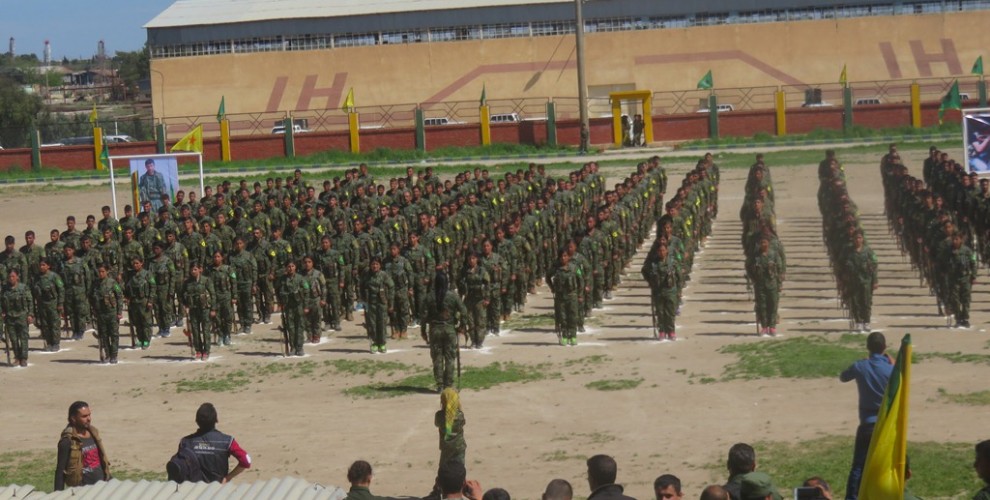 People's /Women's Defense Forces (YPG/YPJ) have declared the establishment of the Martyr Gabar Regiment in Dêrik and Martyr Zana Regiment in Girkê Legê.
The military ceremony marking the declaration of the two regiments was attended by Northern Syria Democratic Federation Co-president Mensûr El-Selûm, Defence Council Co-president Rêzan Gulo, Energy Council Co-presidents Ahîn Siwêd and Ebdulkerîm Melik, Legislative Council Co-president Hisên Ezam, representatives of NGOs and hundreds of civilians. The ceremony at the Rimêlan Stadium began with one minute's silence.
Speaking here, Rehîma Kobanê, a commander for YPJ, stated that the Rojava Revolution built with the YPG-YPJ resistance has raised the oppressed peoples' hopes for freedom. Rehîma Kobanê called on youths to join the regiments.
YPG had declared the Martyr Xebat Dêrik Regiment in Efrîn Canton in February, and 4 military regiments in Kobanê Canton before.