Young people from Kirkuk condemn partnership with Turkish forces in South Kurdistan
Young people from Kirkuk expressed concern over the invasion attacks of the Turkish army on South Kurdistan and said, "Silence and partnership with the enemy bring damage to Kurdish national interests and pave the way for Kurdish genocide."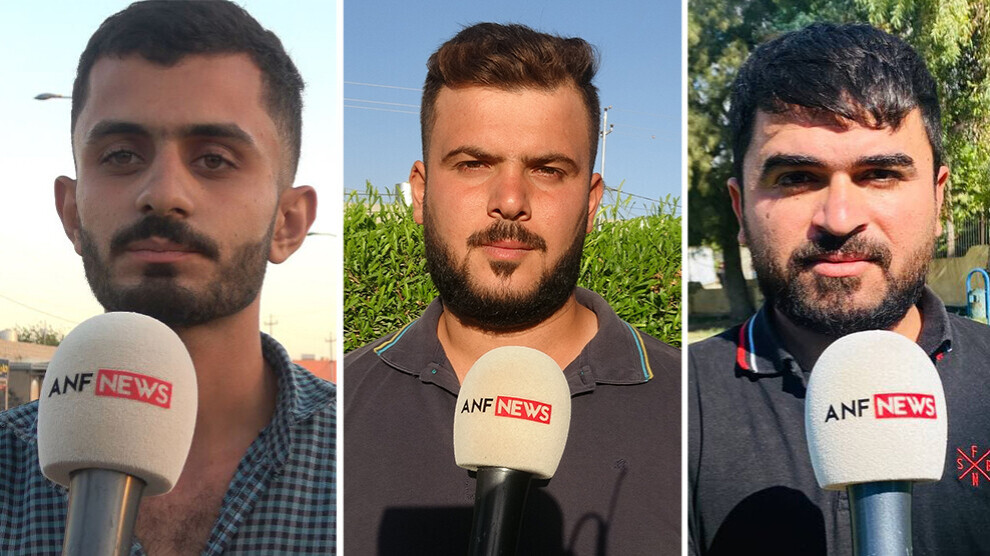 Young people from South Kurdistan slammed the Turkish invasion attacks and the use of chemical weapons against guerrilla forces in Avaşîn, Zap and Metina regions of the guerrilla-held Medya Defense Zones in southern Kurdistan (northern Iraq).
"The fact that Kurdish groups take sides with the enemy under the pretext of strategic partnership means destruction of the national achievements of the Kurdish people," young people told ANF.
TURKEY ATTACKS CIVILIAN SETTLEMENTS
Mihemed Kerkûkî noted that the invasion attacks of the Turkish state have spread into civilian settlements in South Kurdistan. "The Turkish state has always wanted to invade South Kurdistan. Turkish occupation is not restricted to the border regions, since the provincial and district centres are also targeted. Most recently, the Turkish forces bombed the Seydanî village in Chamchamal, and civilians lost their lives."
TURKISH ATTACKS AIM FOR GENOCIDE
"We, the youth of South Kurdistan, call on all parties to take a stand against the Turkish invasion attacks against South Kurdistan. We know from the occupied areas of Rojava that there are massacres, kidnappings, rapes, plunder and deforestation in the areas occupied by the Turkish state."
Kirkûkî asked the forces that paved the way for the Turkish invasion to visit the areas under attack, to see the persecution of the people and to prevent the invaders.
TURKEY WANTS TO INVADE MOSUL, KIRKUK AND SHENGAL
Another young man, Elî Edhem, also said that the Turkish state has increased its invasion attacks. "Turkey claims that the PKK is carrying out political and military activities, but these claims are far from reality. Turkey wants to occupy the Kurdish cities of Mosul, Kirkuk and Shengal. It wants to revive the Ottoman era," he said.
Edhem called on all parties involved to end their silence and added that "silence and partnership bring damage to the Kurdish national achievements."
TAKE A STAND AGAINST TURKISH AGGRESSION
Soran Serdar emphasized that the goal of the Turkish attacks is the occupation of South Kurdistan and the expropriation of Kurdistan's resources. He noted that Turkey made several statements about its plan to annex Mosul and Kirkuk to its soil until 2023.
Serdar said that the Iraqi government should take a serious stance against the invasion. He urged all the people of South Kurdistan to take a stand against the attacks. "If we do not adopt an attitude, we will lose all of Kurdistan, including South Kurdistan," he warned.