Three YRK guerrillas martyred in Turkish attack on Mount Asos
YRK announced the identities of three guerrillas who lost their lives in the Turkish army's aerial attack on the Asos Mountain on November 27.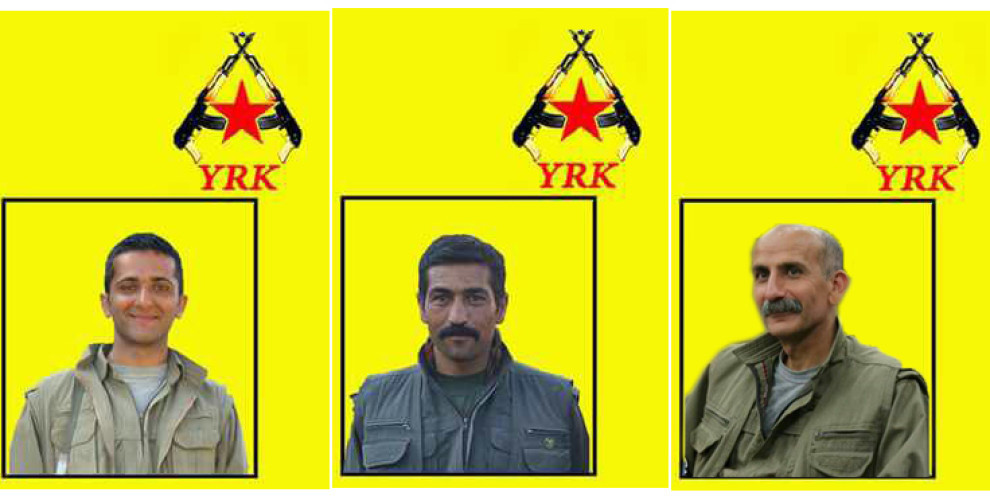 Eastern Kurdistan Defense Units (YRK) issued a statement on the Turkish fighter jets bombing the Asos Mountain in Sulaymaniyah's Mewan town on November 27 and announced that three guerrillas have lost their lives.
The YRK statement is as follows:
"The Apoist Movement is fighting and building democracy and freedom with the developments in the Middle East. These developments further the unity of the Kurdish people. The power and will of the Kurdish people expand every day. We are hoping that these events will lead to freedom for the peoples of the region. The fascist Turkish and Iranian states won't be able to destroy the Kurdish people. On the contrary, they themselves are headed to destruction if a crisis breaks out.
The Kurdish people are building the foundations of the democratic nation society in the region. This model is also supported by the peoples of the region. Because all the constituents in the region have accepted each other on the basis of a common life. In the midst of this crisis in the Middle East, the Kurdish people are building this model and the Turkish and Iranian states are targeting the Kurds in every aspect and carrying out inhumane attacks so they won't be able to. On the night of November 27, on the 40th anniversary of the PKK, Turkish jet fighters carried out a bombing on the Asos Mountain in Southern Kurdistan's Mawet town. The Asos mountain was heavily shelled in this bombing, and one mobile guerrilla unit of ours were martyred in the bombing."
The identities of the guerrillas who lost their lives in the aerial attack are:
Name and Surname: Mihemed Seîd îbrahim
Nom de Guerre: Rêzwan Mahabad
Birth Date and Place: 1969, Mahabad
Martyrdom Date and Place:27 November, Mount Asos
***
Name and Surname: Ehmed Hebeş
Nom de Guerre: Delîl Reşîd
Birth Date and Place: 1980, Efrîn
Martyrdom Date and Place: 27 November / Mount Asos
***
Name and Surname: Salar Sofî
Nom de Guerre: Serbest Dilniya
Birth Date and Place: 1993 / Sine
Martyrdom Date and Place: 27 November/Mount Asos
The YRK statement concluded with:
"Three of our comrades have been martyred due to the dirty plans of the Iranian and Turkish states. As the YRK we offer our condolences to the families of the martyrs and to the Kurdish people. We repeat our promise of freedom to the martyrs. We will avenge them."