'The people of Maxmur resist with the philosophy of Abdullah Öcalan'
Cihan Kaplan of the Ishtar Women's Council Coordination remarked that the people of Maxmur have been resisting for 28 years based on the ideas and philosophy of PKK Leader Abdullah Öcalan, and condemned the silence towards Turkey's attacks.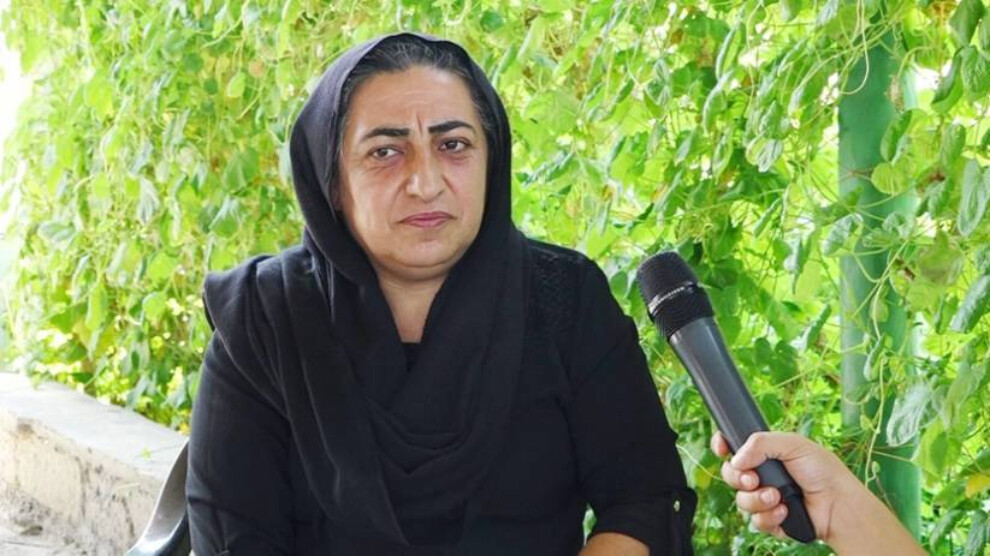 The Turkish Armed Forces have regularly bombarded the Maxmur Martyr Rüstem Cudi Camp, which is located in the Kurdistan Region in Iraq and is protected by the United Nations (UN). While many individuals were injured as a result of the attacks, three women were killed in last year's strike. The Federal Kurdistan Government has also imposed a three-year embargo on the camp.
Turkish President Recep Tayyip Erdoğan, in a television program he attended on June 1 this year, said, 'Qandil's incubation nest is Maxmur. In the city centre, a brood nest is thriving. If we don't take action, this brood nest will continue to produce', signalling that the attacks will increase by legitimizing both the attacks and the embargo. The camp was bombarded with an Armed Unmanned Aerial Vehicle (SIHA) immediately after his remarks, and no one was killed or injured by chance, but the people's dwellings were seriously damaged.
Cihan Kaplan from the Maxmur Ishtar Women's Council Coordination spoke to Jin News Agency about Turkey's attacks and the UN's silence against it.
'The attacks have not stopped since we migrated there'
Kaplan stated that Turkey's attacks against the Kurdish people are intensifying and that Turkey's attacks have escalated even more in the face of the Kurdish people's resistance. She continued, "By killing children, the Turkish state expels all of its grudge and rage. Turkey's airstrikes on Maxmur Camp have not stopped since we migrated here. They have begun to attack with SIHAs in the last two years. The reason for these brutal attacks on Rojava, Shengal, and Maxmur is that Turkey is weakening. It is attacking here to mask this weakness."
'Maxmûr was founded with the anger of our children'
Kaplan emphasized that the people had put up a strong resistance since the founding of Maxmur and added, "We migrated from our lands, from our homes, from our nature. Since our migration, Turkey has not stopped hunting us. We were subjected to murder, torture, and kidnapping. Maxmur was established out of our children's rage against what Turkey had been doing us. We came here because we wanted to be free. We were drawn into these migration routes because we refused to accept slavery. We want our freedom, and one day we shall finally be free."
'We progress with our leader's ideology'
Kaplan stated that they put the ideas and philosophy of PKK Leader Abdullah Öcalan as a road map in front of them and continued as follows: "All of the enemy's tactics are obvious. Torture is inflicted on Kurds in prison, despite the fact that they are not found anyplace else in the world. The torture experienced by our mothers, children, youth and women would not be tolerated in any part of the world today. They violently removed us from our lands and forced our people to serve as guards and agents. We oppose and will never accept all these things because we see them. We rebuilt our culture by prioritizing our leader's ideology. We have been resisting for 28 years thanks to this culture."
'Erdogan will not be able to destroy Maxmur Camp'
Recalling Taybet Inan, who was murdered on the street during Cizre's self-government resistance and whose body was left to rot on the street for days, Kaplan stated that the international powers did not only choose inaction in the face of Turkey's attacks on Maxmur but also supported them. She continued, "Not a single country that claims to be committed to human rights did not stand up for the dead body left in the middle of the street. We strengthen our resistance with the rage of our youth, women, mothers, and elders. The Turkish state has been unable to bring down the Maxmur Camp for the past 28 years. Erdogan had a problem with Maxmur not being destroyed. Erdogan will not be able to achieve this goal because our children are growing up with our Leader's philosophy. We have arrived at this point with this notion, and it will never be destroyed. Shengal is still resisting with the same notion today. Erdogan would not attempt to murder a two-month-old kid today if our resistance did not achieve results."