Tens of thousands joined Newroz celebration in Mardin
Kurdish people welcome Newroz in spirit of resistance.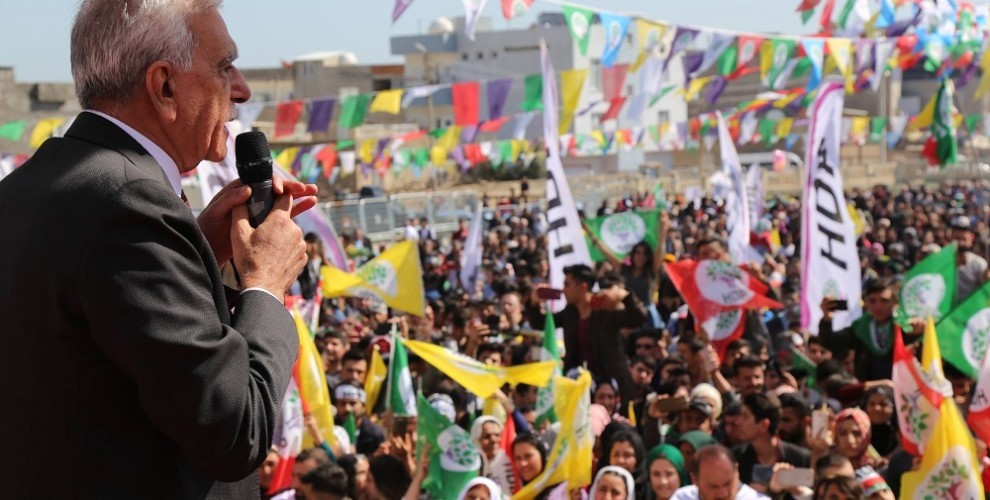 In the district of Nusaybin where the heaviest attacks by the Turkish state were carried out against people, thousands joined the Newroz celebration in Cegerxwin Square.
Among those present, when the Newroz fire was lit, were Mardin MP Pero Dündar and Peace Mothers Council members.
HDP Nusaybin Municipal co-mayor candidates Semire Nergiz and Ferhat Kut greeted the people and said: "On 31 March we will claim back what is ours."
The music was left to Koma Amara.
A message was read from HDP Mardin Provincial co-chair Ali Sinjar who is in prison and on his 21st day of hunger strike.
Pero Dündar MP paid tribute to the 16 people killed in Nusaybin a day after the 1992 Newroz.
Mardin Metropolitan Municipality co-mayor candidate Ahmet Türk emphasized that Newroz represents the history of resistance of the Kurdish people.
Türk commended DTK co-chair and HDP Hakkari MP Leyla Güven and the other hunger strikers and added that the local election scheduled for 31 March will be a success for the HDP.
Midyat
In the Midyat district, thousands of people joined the Newroz celebration. Arab, Kurdish, Turkish, Syriac and Mihallemi people joined the celebration chanting slogans for Kurdish People's Leader Abdullah Öcalan and the hunger strikers.
HDP Midyat Municipality co-mayor candidates Osman Demirci and Havva Balci greeted the people and asked them to go to the polls on 31 March.
Mardin Metropolitan Municipality co-mayor candidate Figen Altındağ addressed the crowd as did HDP MP Tuma Çelik who greeted the people in Turkish, Syriac, Arabic and Kurdish.