Residents of Maxmur Camp protest Turkish state attacks
Residents of the Martyr Rustem Cûdî (Maxmur) Camp protested the Turkish state and KDP attacks on the Kurdish people and Medya Defense Areas with a mass protest.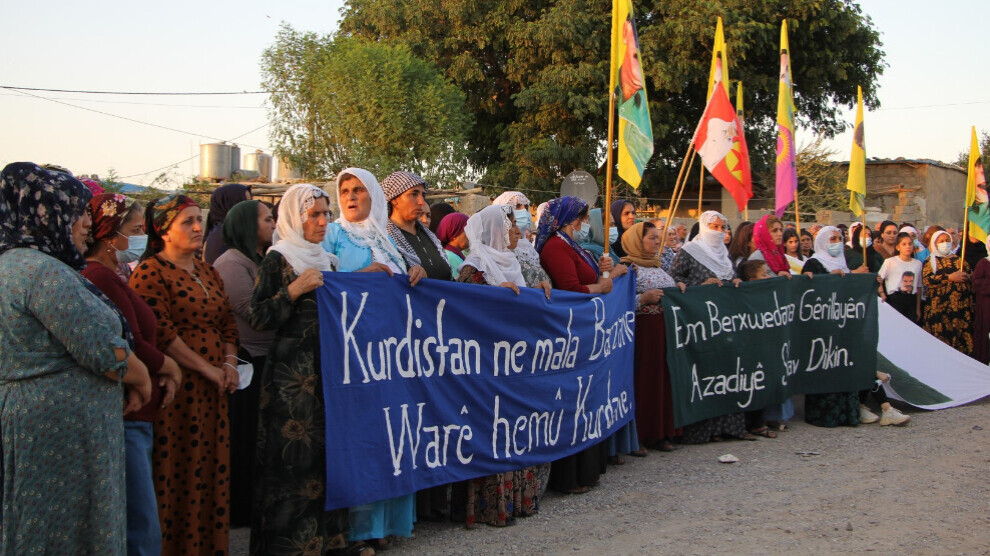 Refugees in Martyr Rustem Cûdî (Maxmur) Camp protested the Turkish state and KDP attack on Medya Defense Areas, Maxmur and Shengal with a mass march in the camp. The march started in front of the Martyrs' Families Association and continued until the United Nations building.
A minute's silence was held in front of the UN in memory of the martyrs of the revolution. Speaking at the action, People's Assembly co-chair, Pakistan Bilen said that 7 guerrillas were martyred as a result of the KDP attack and added: "We strongly condemn the illegal practices of the KDP. The KDP is not just a collaborator of the Turkish state, it is openly Erdogan's soldier. However, both the KDP and the Turkish state should know that they will not achieve their goals. Although the Turkish state has brutally attacked our resistance forces, they have not achieved their goals so far. The Kurdistan freedom guerrillas repelled the Turkish soldiers with their resistance. The KDP has shown its betrayal with these attacks on the Medya Defense Zones and is directly attacking our guerrillas. We do not accept these attacks. The people of Bashur must now see the reality of the KDP and revolt against its betrayal. The Barzani family should know that the Kurdish people will take revenge."
Pakistan Bilen added that the KDP and Iraq supported the Turkish state by remaining silent about the attacks on Shengal, Rojava and Maxmur in the past days. Bilen continued: "The Turkish state and the KDP are afraid of our loyalty to president Öcalan. We have resisted for 28 years, we will continue to resist."