Press statement by the Defend Kurdistan Initiative in Sulaymaniyah
The Defend Kurdistan Initiative was declared to defend the fundamental rights of Kurdish people and share reaction to the war in the region.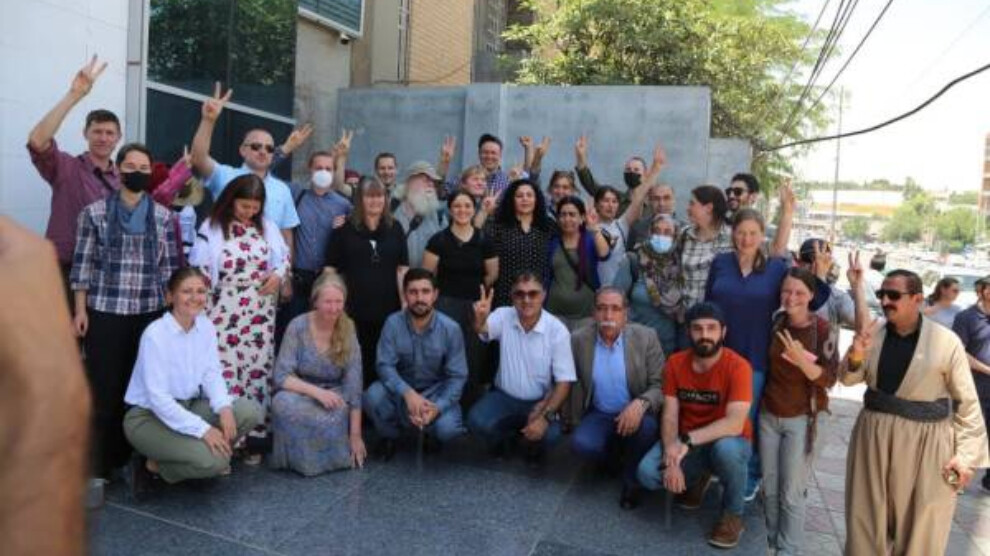 On June 14, an international delegation on behalf of almost 150 politicians, human rights activists, journalists, academics, members of parliament, political activists, ecologists and feminists from all over Europe announced the international initiative "DEFEND KURDISTAN against the Turkish occupation!" in Hewlêr (Erbil). The campaign demands an immediate stop of the Turkish attacks on South Kurdistan and a withdrawal of all Turkish troops and Islamist mercenaries. It is also directed against the collaboration of South Kurdistan's ruling party KDP with Turkish fascism.
The Initiative made a press statement in Sulaymaniyah city on Wednesday, which said the following:
"We, as a delegation from all over Europe, have come to Kurdistan aiming for peace and freedom. Politicians, academics, human rights activists, syndicalists, journalists, feminists, and ecologists from over 14 countries wanted to get direct impressions of the situation and stand up to end the war and destruction. With 150 people, we wanted first to meet with the members of parliament of all parties and visit non-governmental organisations in order to contribute to a dialogue between the different Kurdish political actors.
To defend the fundamental rights of Kurdish people and share our reaction to the war in the region, we wanted to announce our Defend Kurdistan Initiative with a declaration in front of the UN. We wanted to visit the destroyed villages, and to speak with the people who are victims of this war.
When we first came to Hewler, the KDP administration prevented the delegation from establishing dialogues with most political actors in South Kurdistan. Organisations we had planned to visit were intimidated into withdrawing from their meetings with us. A huge part of the delegation couldn't arrive in Kurdistan. 50 people have been deported and 27 people were prevented from boarding the flight at Düsseldorf in Germany. These travel bans are political and had no clear legal basis.
After declaring on Monday the Defend Kurdistan Initiative against the invasion and occupation of Kurdistan, we were prevented from walking to the UN headquarters, and physically pushed and harassed by the Asayish forces stationed outside our hotel. We strongly condemn these illegal actions, and all the repression the KDP has subjected us to. We came here hoping to be welcomed as guests, but instead we were treated as criminals.
Let's not forget, the invasion of the Turkish military is a blatant violation of international law, and is without doubt unacceptable. We are sad to witness that the international community of states remain silent and inactive on this issue, taking no action to insist on Turkey's compliance with international codes and human rights law.
In order to achieve an immediate stop of the Turkish attacks on South Kurdistan and a withdrawal of all Turkish troops and Islamist mercenaries we demand the following:
Stop the Turkish occupation, demographic change, instability, and ethnic cleansing campaign in South Kurdistan.
Stop the destruction and exploitation of Kurdistan's nature.
No complicity of international and regional powers in the Kurdish genocide.
All Kurdish parties, institutions, and people to take a united stance behind the guerrilla's resistance against the Turkish occupation.
No to Erdoğan's neo-Ottoman expansionist project throughout the Middle East and Eastern Mediterranean.
Finally, Kurdistan to be a region free from any occupation.